Streetsblog in the Denver Post: City's 20-Year-Plan Will Solve Congestion if Drivers Don't Balk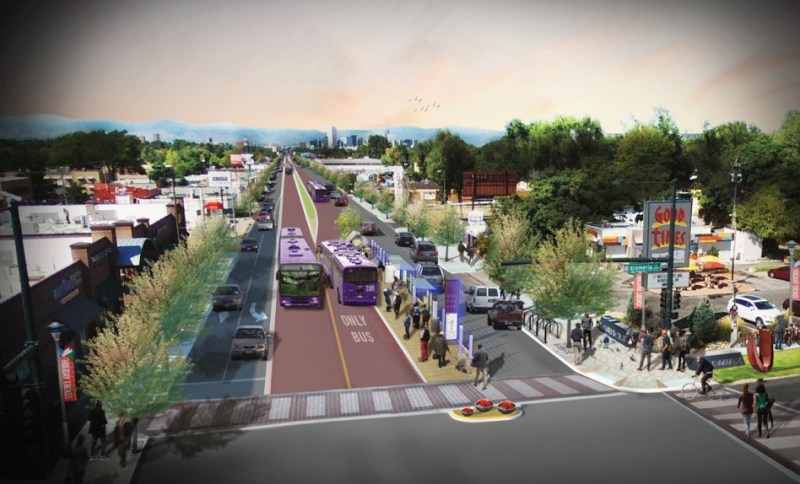 The Denver Post originally published the following opinion piece on April 23:

The following day, Channel 7 traffic reporter Jayson Luber discussed the piece on the Driving You Crazy podcast. You can listen it on all the major podcast platforms including, iTunes, Stitcher, Google Play and  Podbean.
---
As traffic in Denver continues to get worse than it's ever been, I urge you to look through your windshield and imagine a future when one in four cars disappears.
Denver wants to make the city's streets work better for everyone. To do that, city officials intend to reduce the number of people driving alone by nearly a quarter, from 73 percent today to 50 percent by 2030. The goal will also help the city clean up its unhealthy air and reduce its greenhouse gas emissions.
But to make that happen, the necessary changes will certainly trigger furious resistance. That's why I'd like to ask people who drive to envision a future with fewer cars on the road — and know that it's realistic.
Downtown Denver has already exceeded the city's goal to reduce driving. Just 34 percent of downtown workers drive to work alone, while 40 percent use transit and 10 percent bike, according to a commuter survey conducted by the Downtown Denver Partnership.
Downtown offers fast, frequent transit service. It also provides quality bike lanes and good pedestrian infrastructure.
Even if you could never imagine yourself biking to work or riding the bus, the ways people get to work downtown show that when the city improves mobility options, people will use them.
These options are critical because we can't fit more cars onto Denver's roads. And compared to single-occupancy vehicles, buses, bikes, and pedestrians can move a greater number of people over the streets we already have.
Now the task is to extend the mobility features downtown offers to the rest of the city. And there's a blueprint to do that.
Late Monday night, the City Council approved its plan for the next 20 years. When it comes to transportation, the idea is to make alternatives to driving so good that many people will choose to drive less.
But unlike the mostly commercial district downtown, people often fear change as it comes closer to their homes. That's why I'd like drivers to understand why so many people drive in the first place.
Denver's public transportation options are slow, unreliable and do not go where people want to go. In recent years, the Regional Transportation District has repeatedly cut service. And its buses often get stuck in the same traffic that frustrates every driver in the region. Today, a 10-minute trip by car can often take four times as long by bus. Given the state of transit in Denver, it's no surprise that RTD's ridership has fallen 6.8 percent since 2014.
When people take public transit, they become pedestrians the moment they step off the vehicle. And all people who walk need to feel safe crossing Denver's streets. But many of Denver's most dangerous roads encourage people to drive at high speeds that often exceed 60 mph. This makes walking unpleasant and contributes to the city's increasing number of traffic fatalities.
For people who want to bike, there is no coherent network of bike lanes. Denver's existing bike infrastructure often ends abruptly, which can force cyclists to continue their trips on roads designed to move cars at highway speeds. Biking on these streets often feels like a death wish, and all but the most committed cyclists are discouraged.
To get people out of cars, the city's current plans call for adding 125 miles of bike lanes in the next five years, pedestrian safety improvements and creating a new network of high-frequency public transit.
But for these things to happen, traffic lanes must be narrowed. Parking spaces need to be removed. Dedicated bus lanes need to be added. And speed limits should be lowered.
You might agree that the changes are a good idea, even if you understand that driving will become a little less convenient. But when it comes to your neighborhood, how will you feel when the city asks to change the street in front of your home?
This is the point when general support of a good idea often turns to into specific outrage.
As city planners go into communities to discuss these types of changes, people are known to express forceful resistance to change, even in neighborhoods known for their progressive politics. In community meetings, voices will raise. In Facebook groups, angry neighbors will post messages imploring people to contact their city council representative. And nearly everyone will loathe the mayor, whoever he or she may be.
But this is exactly the time when you can help.
In the coming years, you're likely to feel the temptation to join your neighbors in saying "Not in My Backyard." Which is why I'd like to ask everyone who drives to avoid the NIMBY temptation. Instead, the people of Denver should look out their windshield, and see the forest for the trees. Or, in this case, see the city for the streets.
We know that in cities where transit agencies improved coverage, boosted service or overhauled their networks, ridership has increased. As downtown improved its bike lanes, we have seen more people cycling to work. And when you can walk to the grocery store, there's no need to drive.
If Denver is going to make its streets work better for everyone, we must meet the city's goal of reducing the number of people driving — which will reduce traffic for those who continue to drive. But first, we must provide attractive options to those willing to drive less. To do that, the streets must change. And unless you're willing to accept those changes in your neighborhood, the gridlock will only get worse.
Andy Bosselman is editor and executive director of Streetsblog Denver, an affiliate of a national network of nonprofit advocacy journalism publications that cover the movement for better walking, biking and public transportation.