Colorado's Bus Driver Shortage. Part 1: The Problem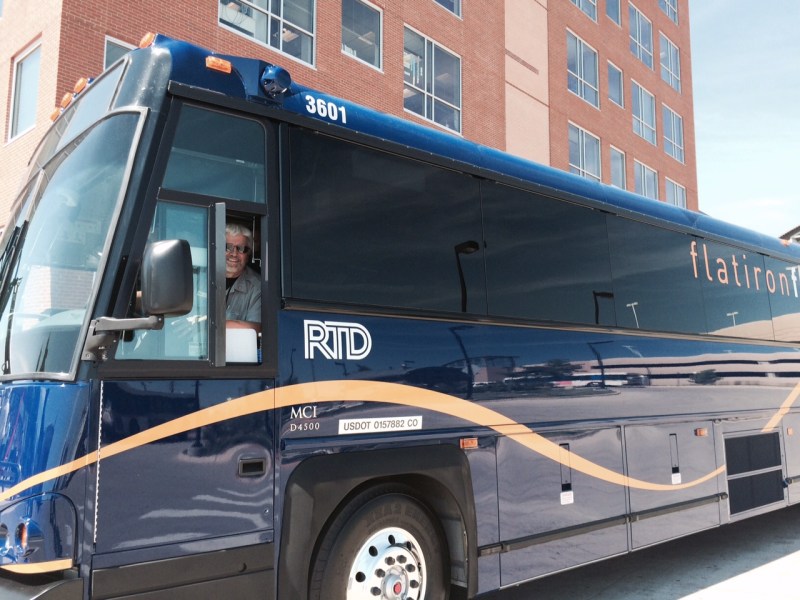 This story is the first of a series on the shortage of bus drivers and train operators in Colorado.
In Denver and across Colorado, transit officials can't hire enough people to drive buses and operate trains.
The Regional Transportation District is short 120 full- and part-time drivers. Without these drivers, some buses and trains never leave the station, leaving passengers waiting and frustrated. The problem extends to the popular Bustang regional routes, where a lack of drivers prompted officials to cut some service and postpone its expansion.
There are many reasons behind the driver shortage, including retirements among an aging workforce, and a booming economy. Bus driver wages, too, are a challenge, with salaries that are not enough to attract people to a tough job or keep up with Denver's high cost of living. RTD has a sluggish hiring process, too. And there's marijuana, which Colorado legalized for recreational use in 2012, leading to widespread use, a practice that safety requirements prohibit.
"When you're having a general recruiting session, the first thing the recruiters are going to say is, 'Is there anyone in this room that can't pass a drug test?'" said Mike Timlin of the Colorado Department of Transportation, which runs Bustang. He offered an off-the-cuff estimate about what happens next. "Three-quarters of the room gets up and walks out the door."
In February, RTD cancelled some buses and trains, totaling 1,204 missed service hours. Though just 0.6 percent of all service that month, it translates to riders experiencing slower, less reliable service. For Bustang, the driver shortage has postponed the launch of new lines, reduced service on its West Line to Vail, and prevented the addition of new service to several existing lines.
Colorado's driver shortage is not unique. Across the country, all the transportation trades, including trucking and driving school buses, are experiencing a "silver tsunami" of retirements among aging drivers. And many young people are not interested in a profession that comes with intense safety responsibilities — but no longer provides a path to the middle class.
Higher wages could help, but they are unlikely as persistent underinvestment has already forced RTD to repeatedly cut service since the financial crisis, cuts that have continued as recently as last fall. And when people consider driving for RTD or Bustang, they're faced with a job that often requires long hours, six-day work weeks and maddening traffic. They also must appease unruly customers, and always be alert for the safety of passengers.
"Part of the reason airline pilots get paid so much is because of the trust that you have to put in them," said Stephan Weiler, a professor of economics at Colorado State University and director of Regional Economic Development Institute. "It's not flying an airplane, but driving a bus is a big deal."
Most Bustang drivers start at $17 per hour, a wage that can go up to $19 after six years of service. Bustang often pays for 12-hour days, which includes the time they wait between the morning and evening commutes, according to Michele Martinson Flores of Ace Express Coaches, which operates Bustang for CDOT. And drivers can earn a two-dollar raise after six years of service. But that's actually a wage decrease, given the rate of inflation, says Weiler.
RTD drivers start at $19.98 per hour, which can increase to a maximum of $25.31, according to Laurie Huff of RTD. RTD's wages translate to roughly $40,000 to $50,000 per year, not including overtime and bonuses. While those wages are higher than minimum wage, they don't go very far.
"The average wage sounds pretty good," said Weiler. "But you're never going to be able to afford a house in Denver that way."
Job seekers can be selective, now, too. Colorado's unemployment rate was just 3.7 percent in February, which means that most people who are out of work are transitioning to other jobs, which are not difficult to come by.
Another challenge for recruiting bus and train operators is harsh working conditions, a problem made worse by lack of drivers. At RTD, the tight labor situation requires nearly all of its drivers to work six days a week.
"If they're younger, if they're not as concerned about their schedule, that's fine," says Huff. But for people with partners, families and children, that doesn't leave much time outside of work," she said.
And not everyone can deal with the public.
Drivers must contend with "passengers who are getting sick, laughing, crying, arguing, and dancing," reports Citylab. "They need directions, they're carrying babies and strollers, they're struggling to scrape together fares."
There are also the insults and assaults, including "verbal abuse, spitting, slapping, stabbing, and even Tasering against drivers," according to Citylab.
RTD's hiring process also moves slowly and puts up barriers to attracting drivers in a tight labor market, says Bill Jones, an attorney for the Amalgamated Transit Union (ATU) Local 1001, which represents RTD drivers.
"RTD is not good at hiring people," he said.
RTD holds all interviews at its Downtown Denver headquarters, where parking is scarce, even if the drivers will work from a different location. The agency also takes a long time to complete the hiring process, he says.
In recent years, RTD accelerated its hiring process with an electronic application system, says Huff. The agency's Human Resources department calls applicants within five days, and interviews are scheduled within two to three weeks, she says.
After applying to RTD, many potential driver go to First Transit instead, a private company that operates some of the agency's routes.
"Many people work for First Transit because after they applied to RTD they waited weeks and weeks," said Jones. "When they applied to First Transit, they were immediately brought in."
For those who do apply, many potential drivers are "weeded out," or disqualified for their legal use of marijuana, a practice that federal law prohibits among professional drivers.
"Getting younger people into this into this type of industry is a challenge," said Timlin of CDOT. Statistics about marijuana use in Colorado confirm that many young people could not pass a drug test.
Nearly one-third of Colorado's young adults between 18-25, 29.2 percent, have used marijuana in the last 30 days according to the National Survey on Drug Use and Health.
---
Streetsblog Denver informs the movement for sustainable transportation and a livable city. Give $5 per month.
---