Downtown Denver Workers Walk, Bike and Ride Transit More
Though the changes are small, fewer people drive alone to work according to a new survey from the Downtown Denver Partnership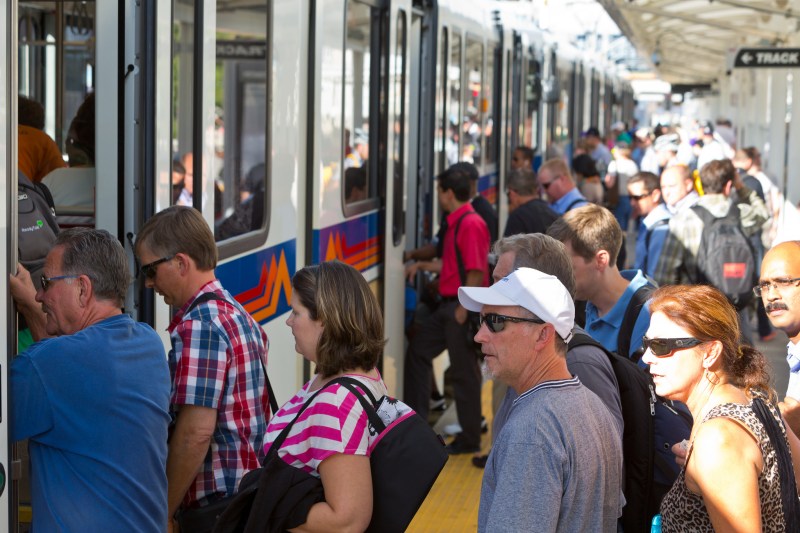 The number of people who drive alone to get to work in Downtown Denver is shrinking, albeit slowly, with some commuters instead choosing mass transit, biking, walking and other modes of transportation.
The City of Denver set a goal to cut the number of people driving alone from 73 percent of all trips citywide to 60 percent by next year. The city has made little progress toward that goal in, but data in the annual commuter survey from the Downtown Denver Partnership seems to show that offering people different options to get to work pays off — especially among people under 35.
"Young workers are more likely to walk and bike to work," said Andrew Iltis, senior manager of transportation and mobility for the Downtown Denver Partnership.
People who walk to work make up 6.9% of all downtown commuters, according to the survey. Those who ride a bike total nine percent of trips, a 36 percent increase since 2016. Citywide, three-quarters of trips are in single occupancy vehicles, but downtown the dominant form of transportation is mass transit: 39.9 percent take buses or trains while 34.5% drive alone.
Nationally, trends show that fewer people take transit than in the past, including at the Regional Transportation District. The number of boardings across the system has decreased 6.8% since 2014. But the number of Downtown Denver commuters using buses and trains has stayed flat, says Iltis.
He hopes that transit ridership will grow after the city completes the Denver Moves: Downtown planning process next year. The blueprint will take advantage of downtown's density, improving bus service and transit connections to increase overall transit ridership.
"We know that downtown has the best potential to do a heavy lift," said Iltis.
Other plans to improve walking, biking and transit could further reduce the number of people driving alone to downtown, he says, including improved bus service on 18th and 19th Streets, Colfax Bus Rapid Transit, and RTD's completion of new rail lines.
"When we start to see some of those projects come on-line, I could see our transit use downtown jump up a little," he said.
See the full Downtown Commuter Survey here.
---
Streetsblog Denver informs the movement for sustainable transportation and a livable city. Give $5 per month.
---