Mayor Unveils 20-Year Vision for Denver's Future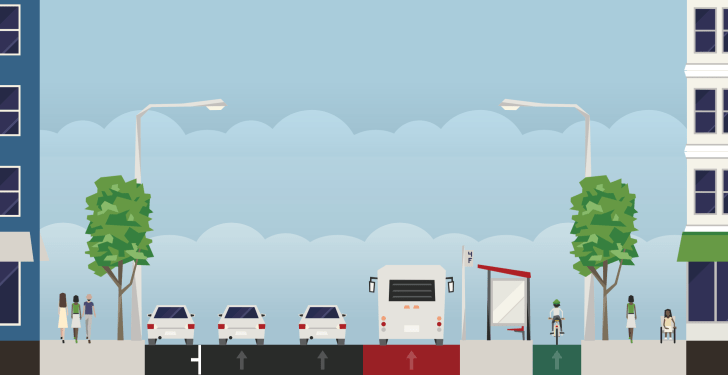 Today Mayor Michael Hancock gathered with community members at City Hall to share a set of plans that will guide how Denver will change to keep its people housed, healthy and safely getting to the places they need to go over the next 20 years.
During the multi-year process of crafting five separate plans, Streetsblog has covered the those related to transportation extensively, including Denveright, Blueprint Denver, Denver Moves: Transit, and Denver Moves Pedestrians and Trails.
The plans will update the city's street-design standards to enhance safety, expand green space and create more livable streets. They also call for a high-frequency public transportation network, including transit-only lanes on some corridors.
Mayor Hancock spoke to the process of collaboration behind the plans.
We are live on my Facebook page right now sharing Denver's #CompPlan2040 to promote and ensure responsible, inclusive growth in our city. https://t.co/YyNeBaH40V pic.twitter.com/5KOhR4jYXC

— Michael B. Hancock (@MayorHancock) March 19, 2019
"A document of this importance, of this magnitude, is not created in a matter of days or even weeks in a corner of our planning department," he said in a press release. "It's the result of years of work and thousands of people getting involved to shape and create a more inclusive, connected and healthy city."
The five citywide plans include:
Comprehensive Plan 2040
Blueprint Denver
Game Plan for a Healthy City
Denver Moves: Transit
Denver Moves: Pedestrians and Trails
Aside from transportation, they will address:
Affordable housing
Where housing and commercial growth should be located
How to prevent displacement from gentrification
Expanding and maintaining the city's parks
The city's multi-year planning process considered more than 25,000 comments from residents and neighborhood groups. A last round of public comments will be accepted until the plans go before the Planning Board and City Council next month for final approval.  Two plans, Denver Moves: Transit, and Denver Moves Pedestrians and Trails, do not need Council approval.