A Green New Deal? Here Are Some Suggestions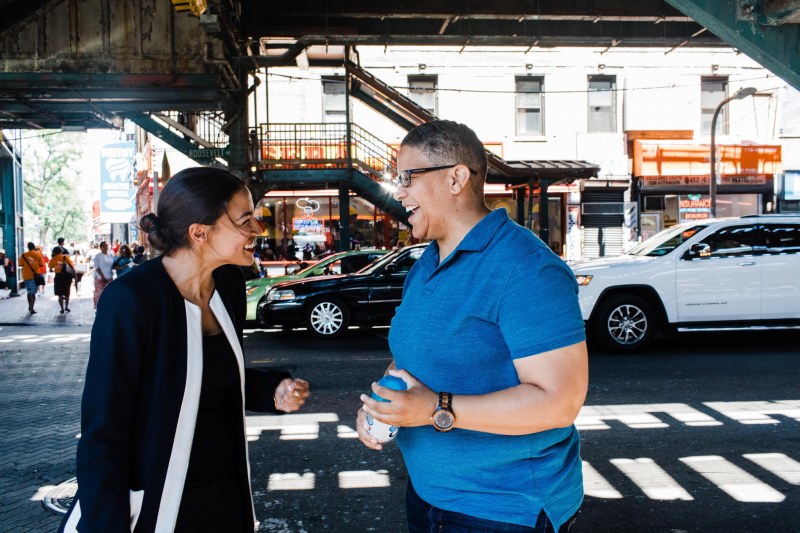 More than a dozen members of Congress — most notably freshman New York lawmaker Alexandria Ocasio-Cortez — have called for a "Green New Deal" to address the worsening climate crisis.
But the document is vague on policy, beyond its call for "decarbonizing, repairing and improving transportation and other infrastructure." That is welcome news because transportation needs to be almost fully decarbonized — and soon — to head off climate disaster.
But the "Green New Deal" needs to go farther than just changing what kinds of vehicles are sprawling all over the country while transit riders and pedestrians remain second-class citizens. So Streetsblog took the liberty of writing up some policy recommendations for Ocasio-Cortez and her 15 current co-signers:
#1. Raise the gas tax
We haven't raised the gas tax in 25 years, so it continues to lose ground to inflation. Essentially, that means  we're lowering the cost of driving — and, as such, encouraging huge SUVs — every year. Not acceptable.
Price incentives have to be part of the shift away from fossil fuels in transportation. The gas tax is a low-hanging fruit.
The regressive impact on the poor could be offset with a commensurate decrease in income tax rates at the lower levels or an expansion of the earned income tax credit.
But raising the gas tax is a crucial step. Studies show it would be six times more cost-effective at reducing emissions than fuel efficiency standards.
The main reason we haven't done it is because the Senate is so rural. But there's no excuse for radical progressives to be gun-shy about this powerful tool for decarbonizing transportation. Plus, it will help fund some of the transportation improvements — which will create jobs — that are the basis of the "Green New Deal."
#2. Stop shoveling money at sprawl-inducing highways
No. New. (Free.) Highways. We can't reduce transportation emissions while building billion-dollar interchanges.
Mega-investments in new highway capacity are not only extremely carbon intensive (hello asphalt?), but they assure more driving by encouraging low-density land use (sprawl).
Fix the highways we've got. And in fast growing areas, use variable tolling to manage congestion. And tear down some roads, like I-81 in Syracuse.
The Interstate Highway System is complete at this point. We need a truly new and "green" paradigm in infrastructure, not more of the same.
#3. Focus on low-dollar amenities like sidewalks and bus shelters
We've spent the last two generations building highways connecting every hamlet in America, but there are huge gaps in the infrastructure for everyone else.
We still don't have the basics in place to make low- or no-carbon alternatives to sport utility vehicles — walking, biking and transit — safe and comfortable. Bus stops across the nation are a disgrace, lacking basic infrastructure like even a bench even in some of our biggest cities — but for the price of one mega-highway project, we could build bus shelters at every single stop.
In addition, in the U.S., we have enormous gaps in our sidewalk infrastructure. Even progressive cities like Denver lack complete walking infrastructure. About 40 percent of city streets in the Mile High City lack adequate sidewalks. In Nashville, it's closer to 50 percent.
Building sidewalks is expensive. That makes them a perfect candidate for a large infrastructure stimulus.
Sidewalk investment would pay for itself in terms of improved public health. According to research by the University of Utah, men who live in walkable neighborhoods weigh 10 pounds less on average (for women it's 6).
And don't get us started on bike lanes. Too many cities listen to drivers and the parking-obsessed rather than street safety and cycling advocates.
#4. Incentivize cities to upzone
It's not just lack of sidewalks that keep people from walking. Zoning rules across America separate people's homes from destinations like stores, forcing them to rely on carbon-intensive driving instead of healthier active modes of transportation like biking, walking and transit.
Mostly it's localities that control zoning. But the federal government can and should offer incentives for cities and suburbs to make the most out of investments in transit and walkability. The Green New Deal could double down on federal efforts to tie transit funding to increases in housing density around federal investments in walkable, sustainable transportation.
If we're going to spend billions — and put people to work — "decarbonizing, repairing and improving transportation and other infrastructure," let's make sure we make it accessible to the people who need it most, rather than listen to NIMBYs who don't like density or want to preserve their free parking.