Meet Andy Bosselman — Our New Editor!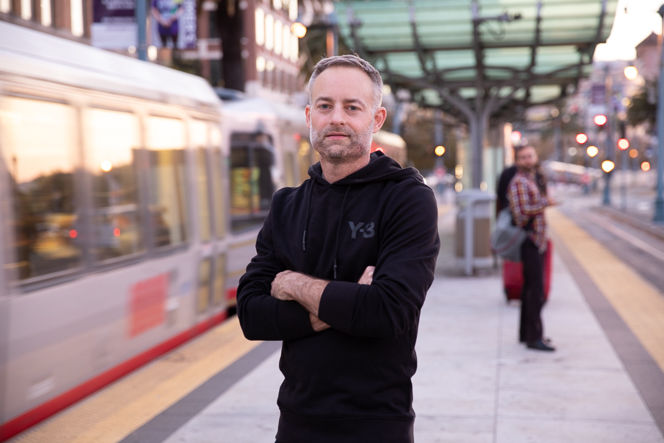 Greetings from California. Soon after Thanksgiving, I'll arrive in Denver to start work as editor of Streetsblog Denver. I'm excited to return to the Mile High City, where I lived from 2004 to 2009. (A skier and hiker, I'm also eager to spend more time in the mountains.)
Since I left Colorado, I've lived in San Francisco where I have written about subjects including homelessness, housing and design. But transportation is what I've covered most. My stories have appeared in Curbed SF (Vox Media), Streetsblog San Francisco and the San Francisco Chronicle. I've also worked with the San Francisco Transit Riders, an advocacy group; and SPUR, an urban planning think tank.
I appreciate the opportunity to serve Denver in this role and I can't wait to get started. But first, it's essential to acknowledge that Streetsblog Denver would not exist without David Sachs. He not only served as the site's first editor, but he also founded the nonprofit that supports it.
Meet the editor at Denver Bicycle Cafe
December 6, 5:30 – 7p.m.
Register for free via Eventbrite
Over five years, David brought steadfast attention to pedestrian fatalities. He covered drivers blocking bike lanes. And he wrote about efforts to make RTD more affordable to the poor. His reporting also made Streetsblog the go-to source for news about new mobility options like scooters, dockless bikes and private buses.
David's work adds up to more than the sum its parts: He helped Denver start to imagine a future where its streets move people, not cars. He left big shoes to fill, especially considering the thousands of loyal followers his writing attracted.
In my experience as a reader of Streetsblog San Francisco, which for years has kicked off my morning news ritual, I have felt a connection to each editor. I also know that when someone new comes along, I raise a doubtful eyebrow. But I have come to value the work of each and as I settle into this role, I hope you'll soon feel the same.
My interest in transportation started in Paris, where I lived from 2003-2004. The city's fast, efficient public transportation system amazed me. It's also a joy to use: I loved being able to read, catch a quick nap or take part in simple courtesies like helping subway passengers carry luggage up the stairs. (Parisians really do that).
Getting around Denver offers a sharp contrast. Commuting alone in a car, which makes up 73 percent of all trips, has become frustratingly slow, dangerous and uncivil according to a series of stories in last week's Colorado Sentinel.
In the Denver metro, enormous sums of money have been spent widening roads and adding more parking. But as cities grow, a time comes when this approach stops working, a point Denver reached years ago.
Advocates know that elsewhere in the world, better walking, better biking and better public transit have solved problems similar to those Denver faces today. And that's why Streetsblog exists.
Through on-the-ground reporting and insightful commentary, we are dedicated to helping readers understand Denver's mobility challenges. Our work also supports the region in creating a vision where more people from place to place in ways that are faster, more sustainable and more enjoyable.
But this is not a voice-of-God publication dictating what we think readers need to know. Streetsblog Denver is a nonprofit that belongs to this community—and you can play a part. We welcome dialogue in the comments section of our stories. We want to hear news tips, story ideas and pitches for opinion pieces. We're also curious about what interests you.
What are the things you like most about Denver's transportation options?
What frustrates you?
Do you know of a single parent who spends more than two hours per day commuting?
Have you created a fantasy rail or subway map for Denver?
Are there wonky terms you'd like to know more about, like transit-oriented development, bicycle boulevards or transit signal prioritization?
In the coming weeks, I will meet with the Streetsblog Denver board of directors to create a priority list of the issues and communities that we intend to cover. If you're curious about something or have suggestions, we'd love to hear from you. Please email streetsblogdenver@gmail.com.
Please also allow me to invite you to say hello and meet other Streetsblog readers at our Meet the Editor event on December 6.
– Andy Bosselman (@andybosselman)
P.S. If you like what we do, please share our stories and follow us on Twitter and Facebook.
P.P.S. Our work is made possible with the financial support of readers like you. Support the mission of Streetsblog Denver.