It's Official: In 2019, RTD Fares Could Cost You More or Less, Depending on Age and Income
The elected RTD Board of Directors approved a new fare structure Tuesday by a vote of 10 to 5, and things will get harder before they get easier for less priveledged residents.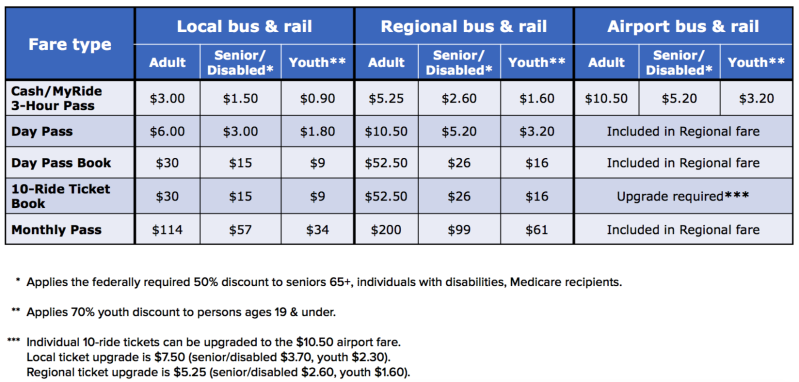 The Regional Transportation District Board of Directors approved an overhaul to the transit system's fare structure Tuesday by a vote of 10 to 5.
While RTD has long offered limited discounted rides for people living below the federal poverty level, the new suite of fare passes allows unlimited discounts — 40 percent off — for riders struggling to pay for the bus and train. Riders between the ages of six and 19 will get a 70 percent discount (kids five and under ride free).
"Physical mobility and economic mobility are synonymous," said Yvette Freeman, a member of housing advocacy group All In Denver, who testified in support of the changes. "Many low-income community members rely on transit to access jobs, education, and healthcare services daily."
People who live at or below 185 percent of the federal poverty level qualify for RTD's new "low-income" fare pass. That translates to a family of four making $46,435 or less a year, for example, or an individual making $22,459 or less.
RTD did not seek any outside funding to pay for the low-income and youth passes. Instead, elected officials chose to raise fares across the board in 2019 (see top chart), even as the agency cuts service.
For low-wage riders, things will get harder before they get easier. The higher fares go into effect January 1, but the low-income pass won't be available until July 1 — a hugely unfortunate wrinkle in a policy meant to help more people access buses and trains, which are lifelines for people all over the region.
Board members voted to eliminate discounts for businesses, colleges, and neighborhood collectives as well. Those groups will start paying for the service they truly use instead of paying a contracted price for unlimited rides.
Some fares increased. Some fares decreased. I hope it works out for the folks who need it most.

— Jeff Walker (@jawalker64) September 19, 2018
Access-a-Ride, RTD's door-to-door service for people with disabilities, is the agency's most expensive service to operate. Starting next year, people will pay more to ride, even though many of them are on fixed incomes. An amendment proposed by RTD District K Director Paul Solano to freeze para-transit fares failed Tuesday, 8 to 7.
Directors Jeff Walker, Solano, Kate Williams, Claudia Folska, Bob Broom, Charles Sisk, Judy Lubow, Lorraine Anderson, Ernie Archuleta, and Board Chair Doug Tisdale voted for the changes. Directors Larry Hoy, Barbara Deadwyler, Natalie Menten, Ken Mihalik, and Peggy Catlin voted against them.
The changes should increase both transit ridership and RTD revenue by 2021, according to the agency's projections.
Tuesday's vote put a period on a year-and-a-half long sentence. Deliberations began back in June 2017.
There's so much to unpack, though! If you're interested in going deeper, check out this post from last week.