Transit Riders to RTD Board: Honor the Public Process and Approve New Fare Pass Discounts
Elected officials still have to vote on a new fare package. Constituents don't want them to pick it apart.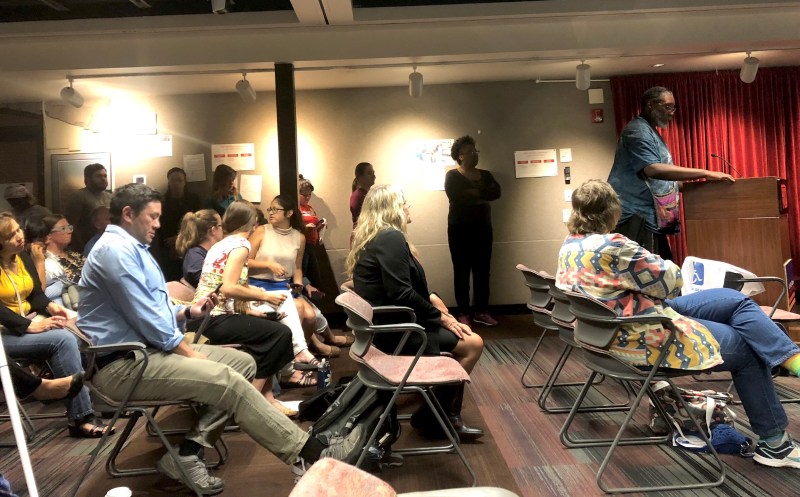 Break the cycle of generational poverty, give independence to kids, seniors, and people with disabilities, create people-first streets, improve air quality, keep people out of jail, let parents choose where their kids go to school, make it to soccer practice on time.
Those are some things transit does for people in the Denver area, according to the choir of riders who spoke at the Regional Transportation District Board of Directors meeting Tuesday. They came to sound off on an overhaul of RTD's fare pass suite, which includes a 40 percent discount for low-wage residents and a 70 percent discount for kids, among other changes aimed at increasing access to buses and trains.
Of the 22 people who spoke on the topic, all spoke in favor of the new discounts. No one spoke against them.
Elected RTD board members will vote on the package, ironed out over the course of a year by leaders from every corner of the district, in September or October. The question at hand: Will they honor the process and take the group's recommendation as a whole, or pick it a part à la carte?
"We're coming into the home stretch here of a long process," said Jeff Su, executive director of Mile High Connects. "We always understood the board would need to do its due diligence, and we thank you for doing your due diligence on the entire package, because it was designed to work together, and it was designed to be a revenue neutral solution."
Support for the new pass program was broad and diverse Tuesday.
"Poverty, particularly generational poverty, creates a tangle of interrelated challenges that make it extremely difficult for people to become self-sufficient and get ahead," Denver resident Moné Miller told the board. "If we want to break the cycle of generational poverty, we need to make public transportation affordable for hard-working, low-income families."
About 38 percent of RTD riders live in households making less than $35,000 a year. Worst case scenario, it would take $11 million — less than 1.7 percent of RTD's annual operating budget — to serve those riders better, Su said, citing RTD estimates. The package was designed to save money elsewhere by charging businesses, corporations, and universities based on the service they use.
New discounts would help people like Deronn Turner, who lives in Northeast Park Hill. She has a young daughter with Down syndrome.
"I want her to be able to one day be independent," Turner said. "And one of the ways that she can one day be independent is by being able to use public transit. But if public transit is too expensive, then that takes her ability to be independent."
Some RTD board members attended the public sessions of the fare pass program working group. Most did not. The meetings were long, tense, and hard-fought events with horse-trading between reps from neighborhood groups, city transportation officials, business organizations, educators, and others. They reached a general consensus and passed their recommendation onto RTD staffers, who passed it onto the board, more or less intact.
Kristen Seidel of the Denver Women's Collaborative said she wants the RTD board to respect that process by approving the package as a whole.
"As you can see, the community is strongly supporting that, and it's the community you were elected to serve and we would like you to do that," she said. "And it's the community that is going to be so deeply impacted by this."