The City Must Create Better Connections from Speer Blvd/Cherry Creek Trail to Downtown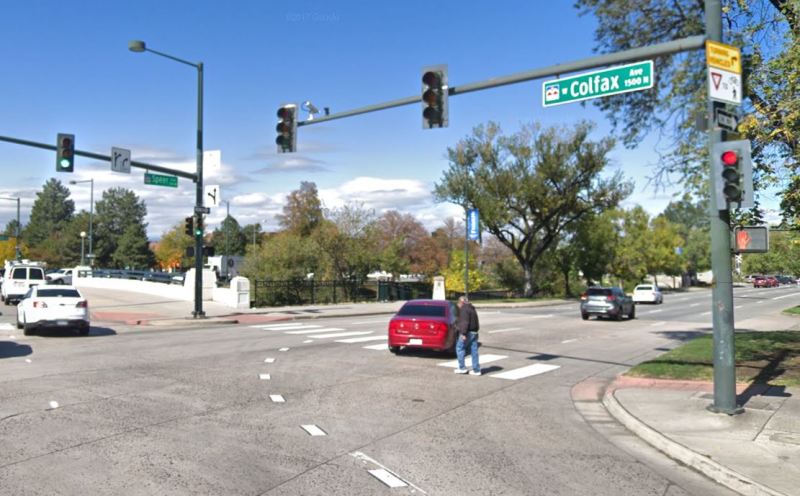 This column is part of Streetsblog Denver's Summer Reader Takeover, where we give you a platform to talk urban transportation. The author's views don't necessarily reflect those of Streetsblog Denver.
A well-known problem with Denver's bicycling and pedestrian infrastructure is the lack of connectivity. One glaring example is the gap between the Cherry Creek Trail and the downtown destinations of Welton and Glenarm streets.
Currently people on bikes are left to fend for themselves on Colfax, with its six to seven lanes of traffic. A two-way cycle track (such as the one on Bannock Street) from Speer to Glenarm on the north side of Colfax would seamlessly connect these key features.
However, this would still leave a major obstacle to full connectivity – safely crossing all five lanes of northbound Speer to access the Cherry Creek Trail. This intersection is anchored by Auraria Campus to the west and all of Downtown to the north and east.
As it stands, pedestrians and people on bikes attempting to cross Speer must compete with a double turn lane of motorists turning right because the green light and walk signal occur simultaneously!
Pedestrians and people on bikes deserve a separate crossing phase free from cars. After some hounding, the city placed a "turning vehicles yield to peds/bikes" sign that is consistently ignored, and, due to its poor placement, likely never seen. This design creates an extremely dangerous situation in an area full of cyclists and pedestrians.
A city that has pledged itself to Vision Zero should make these obvious improvements rather than waiting to sacrifice more lives on the alter of motorist convenience.
Tiffany O'Connell lives in Englewood.