Deadly Speeds on Urban Federal Blvd Aren't Even Fit for Rural Highways. That Can Change.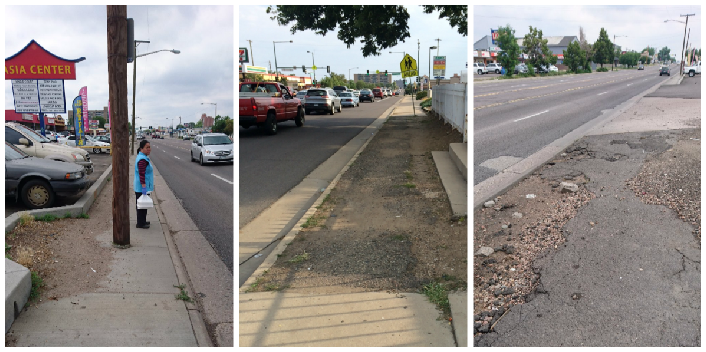 This column is part of Streetsblog Denver's Summer Reader Takeover, where we give you a platform to talk urban transportation. The author's views don't necessarily reflect those of Streetsblog Denver.
If you've ever driven on a rural state highway, you've noticed that drivers are required to decrease their speed when approaching a town, from 65 mph down to as low as 20. This reduction is necessary for pedestrian safety, as many state highways pass directly through small town centers and local business loops.
Not so on State Highway 287, known in Denver as Federal Boulevard, the city's deadliest street.
On this particular highway, a broad, car-centric design encourages drivers to travel consistently above 50 mph, despite the fact that vehicles are traveling within a densely populated area, mere feet from schools, restaurants, recreation centers, veterans' housing, health centers, a stadium… I could go on. No significant speed reduction is required despite thousands of pedestrians.
On Federal, the onus is on human beings of all ages and abilities to cross several lanes of high-speed traffic on a street that's inherently unsafe for them to do so. Sadly and predictably, many pedestrians cannot successfully navigate this dangerous environment, and since 2017, there have been eight pedestrian fatalities on Federal/State Highway 287.
It is important to note the thoroughfare's two names, because it points to the difficulty in improving this dire situation. The City and County of Denver is responsible for some maintenance, but is limited by state laws and (inadequate) state funding. Changes to Federal require cooperation between the dueling bureaucracies of Denver and the Colorado Department of Transportation.
We must hold them both accountable for the thoroughfare's negligent, deadly design.
How can you help? As a voter, you can influence change on two levels:
On a local level, encourage your Denver City Council representatives and Mayor Hancock to
continue funding safety improvements on Federal
through the annual budget, capital improvement funding, and bond funding. Contributions and support of local safety initiatives, such as Vision Zero, will help us realize our goal of fewer injuries on our roadways.
If rural Coloradans can count on CDOT and local governments to keep their pedestrians safe, Denverites should be able to do the same.