Shanghai Shows Why Denver Is Wise to Regulate Dockless Bike-Share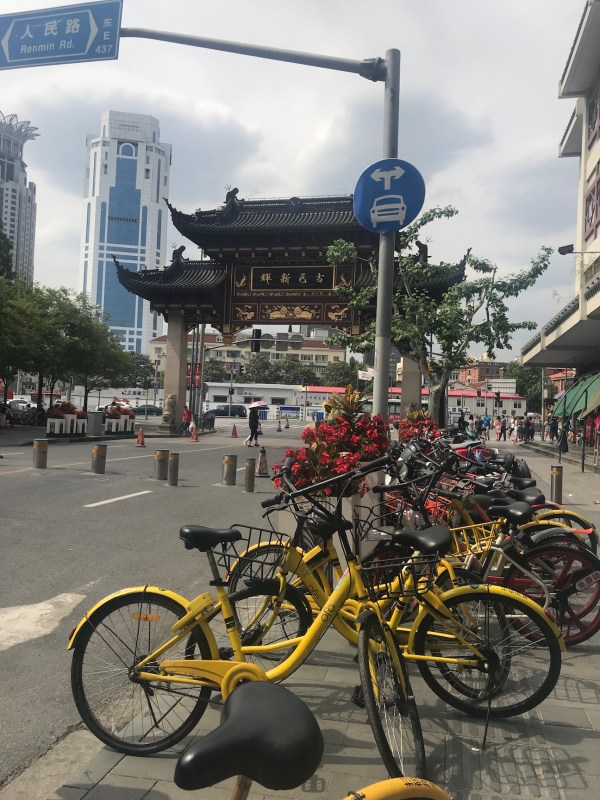 This column is part of Streetsblog Denver's Summer Reader Takeover, where we give you a platform to talk urban transportation. The author's views don't necessarily reflect those of Streetsblog Denver.
Can dockless bike-share solve the challenge of getting more people out of their cars and onto bicycles?
Denver's bike commuters comprise only 2.3 percent of the commuting population, so perhaps a bike-share that provides greater convenience could help encourage more Denverites to bike to work. The city's xperimentation with dockless bike-share has been limited, but the city has recently adopted a pilot permit program with new regulations.
I was in Shangai this summer, where I saw an example of a city that has wholeheartedly adopted dockless bike-share. In some areas of the city, the bikes from dockless bike-share companies like MoBike and Ofo are on every corner and sidewalk. There are side streets where the bicycles are parked by the dozens, and pedestrians have difficulty passing. One expat I spoke to compared the influx of bikes to locusts, because they swarmed the city and took over the sidewalks.
In other areas of the city, there were no bikes to be found, indicating a lack of redistribution by the operators. Shanghai is apparently trying to diffuse the bike parking dilemma by creating markings on the sidewalk, designating where the bikes can be parked. Outside the city, illegally parked or abandoned bikes are impounded in massive lots nicknamed "bicycle graveyards."
Despite the number of bikes in Shanghai, I didn't see many bicyclists. Shanghai is very convenient to navigate by walking, transit, and driving, but bicycle infrastructure was lacking. Denver is wise to be cautious when allowing dockless bike-share companies to enter the city, because, like Shanghai, Denver has a long way to go in creating infrastructure that provides equitable and safe access for bikes.
Limiting the number of bikes in circulation and operators in Denver can help avoid bicycle graveyards and blocked sidewalks. Requiring operators to redistribute bikes will make the system more convenient, equitable, and user-friendly. Frustrations with a poorly managed bike-share could deter hesitant bicycle commuters, rather than encourage them to change their habits.
Bicycle commuting is one of the best ways to reduce pollution, improve health, and decrease traffic. With the correct regulations, Denver can leverage dockless bike-share to meet its goal of reducing single occupant vehicle commuter trips, while avoiding the pitfalls of Shanghai.
Meghan McCloskey Boydston lives in Capitol Hill.