If Hancock Wants Streets That Work for All, He Needs to Fund Them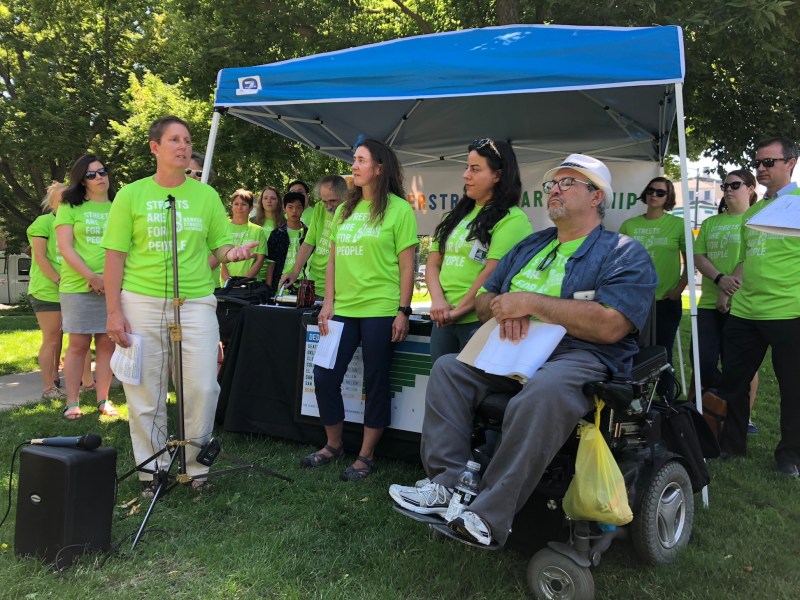 Words don't build infrastructure. Mayor Michael Hancock has said plenty of encouraging things about making walking and biking convenient and safe, but Denver has little to show for it. The city needs reliable investment in better streets, not pleasing sound bites.
That was the message from the Denver Streets Partnership yesterday. The coalition, which includes advocates for sustainable transportation, disabled residents, public health, and affordable housing, released a report calling for a $40 million annual investment in complete streets over the next 20 years.
That would be enough to supply every neighborhood with "a complete sidewalk network" and "bicycle lanes that are separated from vehicular traffic."
Under Hancock, Denver typically spends about $5 million on walking and biking through its annual budget, according to the Partnership. While the bond measure passed by voters last year helps, Bicycle Colorado's Denver Director Piep van Heuven said it's far from enough.
"It was important to see walking and biking projects in the bond, but it's just a jumpstart," van Heuven said. "It's like just the salad piece of the menu. We still have a lot in front of us. We need to get to the main course and dessert."
The Partnership wants Hancock to dedicate upwards of $22 million in next year's budget to "people-friendly streets": $10 million for new sidewalks to help complete the disconnected grid, $6 million for bike lanes, $5 million for safety improvements on Federal Boulevard, and "at least" $1 million for low-cost, street safety improvements citywide.
Advocates held the press conference where Park Avenue, Colfax Avenue, and Franklin Street converge. That five-legged intersection was once one of Denver's most dangerous. But that changed when the Colorado Department of Transportation and Denver Public Works installed inexpensive fixes pretty much overnight, adding painted curb extensions, median islands, and turn bans.
William Alexander, 60, wants safer crosswalks like that all over the city. Last year a motorist struck him while he crossed Park, breaking his ankle and requiring surgery.
"We need crossing improvements for sure," he said. "This is ridiculous, how many people are getting hit around here. It should be safe for everybody — bikes, pedestrians, motorists. Nobody's slowing down and paying attention."
Jaime Lewis of the Colorado Cross-Disability Coalition seconded that notion.
"The fact is, most of the basic essentials for providing mobility freedom are inadequate," he said. "Is it acceptable that tax dollars are not being used to buy the most basic infrastructure for our most vulnerable — our youth, older adults, and people with disabilities?"
DSP has made it easier to speak up with a website where you can tell Hancock and the Denver City Council to fund safer streets.