Your 2018 Guide to Bike to Work Day in Denver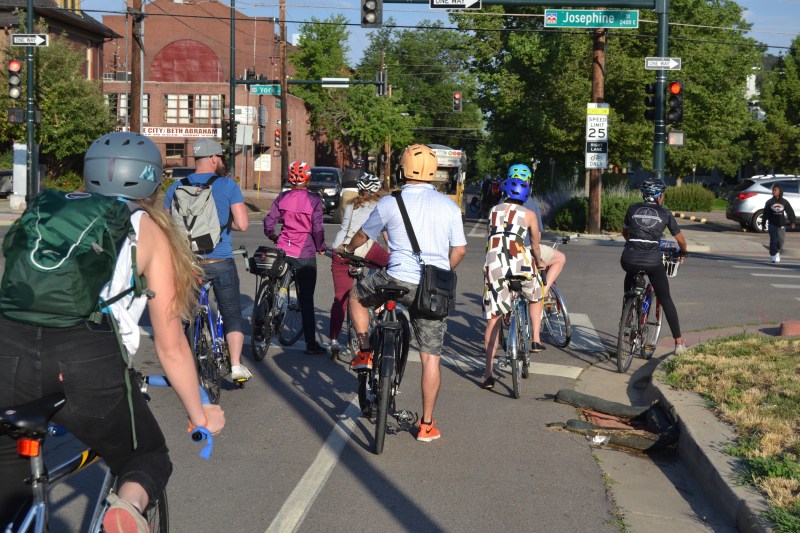 Wednesday is Bike to Work Day, that special time when people on bikes are suddenly the darlings of public officials and the local media takes a break from bikelash.
Cynicism aside, it's fun to be out biking with so many other people. And Bike to Work Day can be a gateway to daily cycling for people who are hesitant to try it out at first. Plus you get free food and other stuff.
Here's your guide to the festivities, plus some things to be aware of.
Get counted — it will make a difference
The Denver Regional Council of Governments uses Bike to Work Day to better understand travel behavior. This is the agency in charge of regional planning, doling out federal dollars to the Denver metro area. They want to know where people bike and who participates.
Join the crowds and register — it will help DRCOG track the popularity of biking, and make the case for more bike projects.
Grab breakfast in the morning, beer in the afternoon
Denver proper will have 91 stations, and across the region, there will be nearly 300, so there's bound to be one near your typical route. Or if you're like me, you can plan your route around where the breakfast burritos and pancakes will be in the morning, and where the beer will be in the afternoon.
The Downtown Denver Partnership's huge pancake breakfast is always a safe bet if you work near the 16th Street Mall. In the afternoon, I'll be heading to the Denverite Detour, where the local news site is partnering with Bike Denver for a block party on 10th Avenue between Bannock and Cherokee streets. Bonus: It'll be closed to cars.
There are plenty of other options. Use this map to sort by breakfast stations, "bike party stations," and water stations.
Beware of closed/missing bikeways and things in the bike lanes
The good news is that "safety in numbers" is a real thing — the more people biking, the more alert drivers are to bicyclists.
The bad news is, several bike lanes around the city are missing or incomplete. Denver Public Works has been paving streets, and in several cases there's fresh asphalt but no bike lane paint or posts separating cyclists from car traffic yet. Then there's the daily threat of people parking cars and trucks in bikeways, forcing bicyclists to swerve into speeding traffic.
DRCOG has a list of closed trails around the region to avoid.
Send Streetsblog pictures of the good and the bad
@ us on Twitter, Facebook, and Instagram, or email your photos and videos, and we'll choose the best to feature on the blog. We want to see cheesing people on bikes, but we also want to see how Denver's dodgy bike infrastructure creates problems for people and why it needs to be improved.
Have fun tomorrow, and be safe.