Denver PD Releases Few Details on Crash That Killed Pedestrian David Williams on MLK Blvd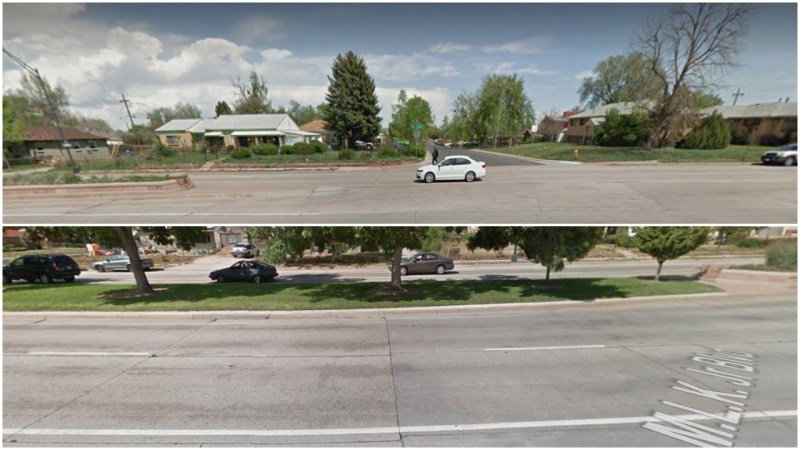 More than three weeks after a driver killed David Williams as he walked across Martin Luther King Jr. Boulevard, the Denver Police Department finally released some basic information, but it sheds little light on the crash or how the police conducted their investigation.
At 10:12 p.m on May 30, Williams was crossing near Leyden Street when a motorist in a green Chevrolet Cobalt ran him over. Williams died within a few hours due to blunt impact trauma, according to the Denver Office of the Medical Examiner.
Williams was the fourth pedestrian killed by a driver on Denver streets this year, and at least two more people have been struck and killed while walking since.
Based on Denver PD's investigation, the district attorney did not charge the driver, Sherill Alexis, 49, with anything.
The motorist was heading east on MLK "at a stated speed of 35 mph," according to a one-sentence account of the crash in the police report.
Streetsblog requested several details about the crash weeks ago, but the threadbare police report is all that's been provided. It's unclear how police officers verified the driver's 35 mph speed. Did police speak to any witnesses besides the driver? Was the crash caught on camera? Was the car's event data recorder triggered? Did it track the driver's speed and movements at the time of the crash, and if so, did investigators access the recorder? Did police examine the driver's phone or subpoena records from the phone company to determine whether the driver was distracted? The public still doesn't know.
Williams tried to cross MLK near Leyden, heading north. While there's technically a crosswalk at Leyden, it's not painted, nor is there any other street treatment telling drivers to slow down, stop, or expect pedestrian traffic.
Williams opted to cross just west of Leyden, where there are four lanes to cross instead of the six lanes at the intersection. The nearest signalized crosswalk was more than 1,000 feet away.
So here we have yet another crash that took the life of a Denver man who can't tell his side of the story. And, as usual, the public is left with more questions than answers from Mayor Michael Hancock's police department.
Williams was killed in City Council Member Chris Herndon's district. Herndon's phone number is (720) 337-8888. His email address is Christopher.Herndon@denvergov.org. He's also on Twitter and Facebook.