#StreetFail: City or Wealthy Homeowners Should Upgrade the University Blvd Dirtwalk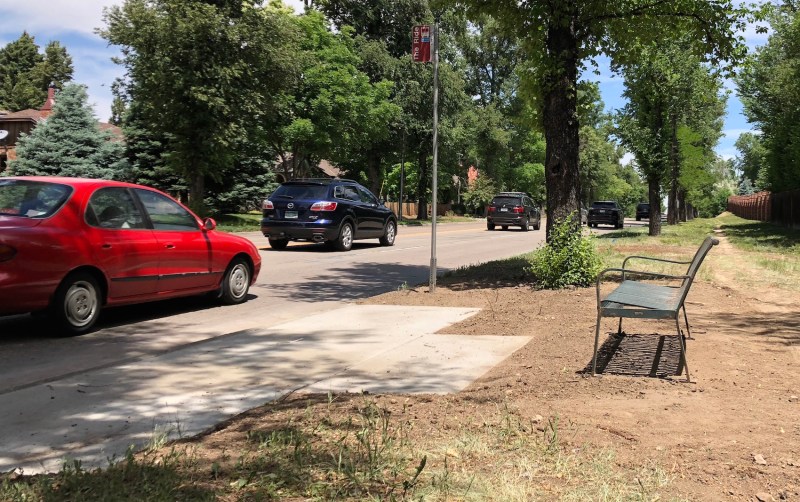 Denverites who walk, wheel, and take the bus to get around know the city's patchy sidewalk network all too well — 40 percent of the grid is either missing sidewalks or sporting walkways too thin for people in wheelchairs.
The half-mile of stretch of University Boulevard between Alameda Avenue and Exposition Avenue is one of those segments where, instead of a sidewalk, you get a dirt path and overgrown bushes. It's a signal to people walking and riding transit that unless you're driving on the east side of University, you'll be treated as a second-class citizen.
This stretch of dirt is in Councilman Wayne New's district. It butts right up against speeding traffic — there's no buffer to keep pedestrians safe on a street where, according to a nearby radar sign, drivers routinely travel at 40 mph in a 30 mph zone. A school is nearby.
Fixing this stretch of public space is not technically the responsibility of Denver Public Works, because Denver's sidewalk policy unrealistically expects private homeowners to maintain public sidewalks. Thanks to advocates and Denver City Council, the city created a fund to help poor homeowners repair their sidewalks. But what about rich ones?
Also according to city law, Denver Public Works Executive Director Eulois Cleckley can "order the construction or reconstruction of sidewalks" to complete the area's sidewalk grid — and it would be the adjacent property owners' responsibility to do so. Lucky for DPW (and for bus riders who have to traverse this goat path), these property owners can probably afford it. Ten properties sit along this stretch of University and they're worth, on average, more than $3.7 million, city records show.
Don't count on the city flexing its muscle though. Denver has "not historically ordered Denver property owners to construct sidewalks where they have not existed previously," said DPW spokesperson Nancy Kuhn. "In Denver now, new sidewalk construction is primarily triggered by reconstruction and new development activities."
As is typical in Denver, where golfers enjoy manicured paths funded by taxpayers alongside similar dirtwalks, this missing sidewalk is next to a symbol of wealth: A gated community of sorts with private roads bearing names like Polo Club Lane. A sign warns would-be trespassers to "KEEP OUT" or risk arrest.
DPW should send a message of its own to pedestrians and transit riders by ensuring basic infrastructure for people walking and using wheelchairs.