A Denver Lawyer Made a More Up-to-Date Crash Map Than the City's Official Version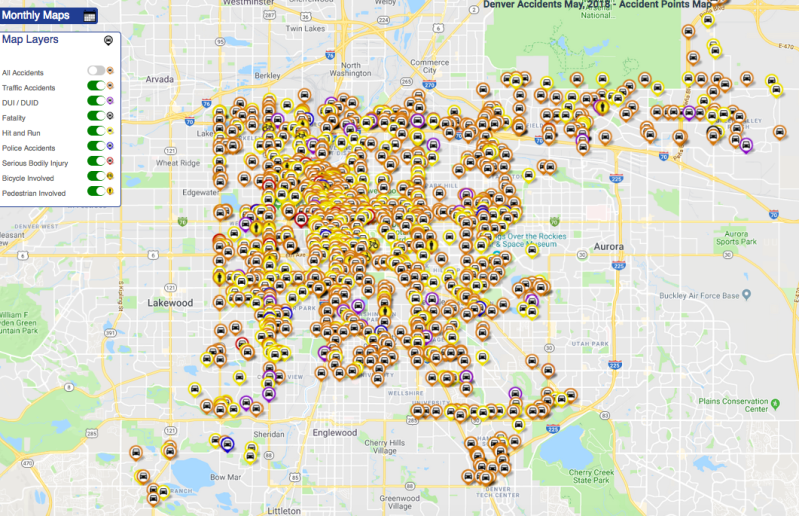 One sign that a city is serious about its Vision Zero goals is a commitment to transparency: Publishing a regularly updated map of serious traffic crashes lets the public see what's happening on the streets. When people can see where crashes are happening, they can see whether city officials are making any progress on traffic safety and hold them accountable.
Denver still doesn't have a map like that, so attorney Scott O'Sullivan made his own.
O'Sullivan has worked with dozens of crash victims at his personal injury practice. "I've seen too much," he says. "I've seen first-hand just how devastating it is on a repeated weekly and monthly basis for 20 years now."
He wanted to see the citywide impact of crashes, and Denverites don't really have access to that information. Denver Public Works' official crash map doesn't have data more recent than 2015, and it under-counts traffic deaths. O'Sullivan commissioned his "computer whiz" brother-in-law, Andrew Russette, to create this map.
The big improvement is that Russette's map pulls information from the Denver Police Department's crash data daily. It contains data from the past 12 months.
With the map, you can look up every crash at a particular location in the past year. It isn't perfect, and sorting the information could be easier. The user interface still needs work to let people, for instance, isolate the locations of pedestrians that were seriously injured in the past year. But it shows that it's very possible to integrate up-to-date crash data into a publicly accessible map — something the city still hasn't managed to do.
"I'd like it to be a tool to help influence policies for the roads, make them safer," O'Sullivan says. "For better pedestrian crossings. Better bike lanes. And also help the city more clearly and visibly identify those problem areas. And even as a driver of a vehicle — to be just more aware, and make better choices."
The map is best viewed on a desktop right now, but Russet is working on an app optimized for smartphones and tablets.