Hancock Administration Planning Nine Miles of Unprotected Bike Lane Projects This Year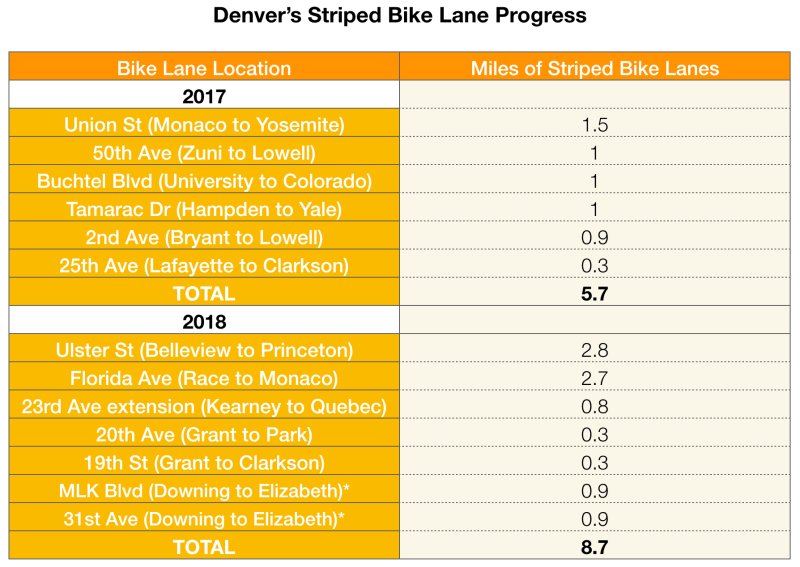 Yesterday we checked in on the progress of protected bike lane expansion in Denver. Creating a network of safe bikeways with physical protection from motor vehicle traffic is the single most important policy to increase bicycling. But under Mayor Michael Hancock, Denver won't be building much in the way of protected bike lanes in 2018.
What about the lower hanging fruit of striped, unprotected bike lanes?
In 2018 the Hancock administration plans to stripe more miles of painted bike lanes than last year. Still, in the citywide context, we're not talking about much.
This year's slate will add about nine miles of painted bike lanes, compared to about six miles last year. Like last year, some projects will be well outside of the city's core in more suburban areas.
Here's a map of the seven painted bike lane projects coming in 2018:
The pair of bike lanes on Martin Luther King Jr. Boulevard and 31st Avenue may get built this year or early next year, depending on when a nearby stormwater project is finished, according to a Denver Public Works spokesperson.
Note that a half-mile section of 31st Avenue, between Downing and High streets, will be protected by a row of parked cars. So if it is completed this year — it depends on construction of a nearby stormwater project — it will increase the protected bike lane tally we reported yesterday. While that's nice to have, the city needs to do more to move the needle so large numbers of people feel comfortable biking on Denver streets. The rest of the MLK/31st project only calls for painted buffers.
A new Ulster Street bike lane in Denver Tech Center will also get the painted buffer treatment.