Last Week: 508 Car Crashes, Six Life-Changing Injuries on Denver's Streets
To track the extent of crashes and injuries, Streetsblog is launching a weekly traffic violence report.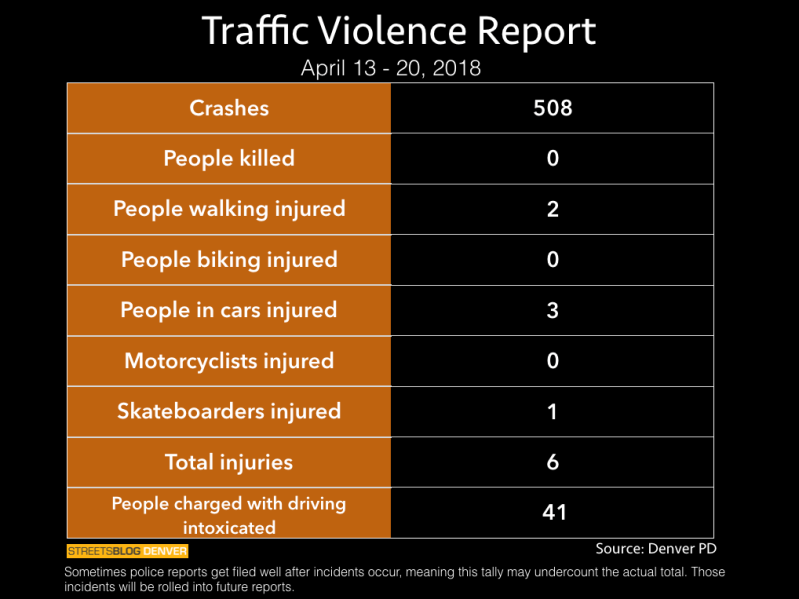 What's more dangerous than traveling on a plane going 500 mph at 35,000 feet?
Crossing the street in Denver.
Last year was the safest on record for the aviation industry. For every 16 million commercial flights, one person died. Federal Boulevard, on the other hand, was the scene of 11 traffic deaths in 2017 alone, including seven people on foot. Citywide, 51 people were killed in traffic collisions, including 14 pedestrians.
These tragedies are frequent and they are preventable, but they don't get nearly as much attention as they deserve. Last week's fatality on board a Southwest flight, for instance, garnered worldwide headlines and triggered scrutiny from all angles. Most of the 40,000 annual traffic deaths in America, meanwhile, elicit little more than a collective shrug.
This level of carnage on our streets is not a foregone conclusion — other countries are way ahead of us on traffic safety.
So to convey the scale of the problem in Denver, we'll be publishing a weekly traffic violence report.
With this series, we aim to remind politicians, transportation officials, local media, and the public that the cost of inaction on traffic safety policies is extremely high. The longer it takes to redesign our car-centric streets, the more people will get hurt or killed.
Every day, the Denver Police Department sends a summary of the previous 24 hours of mayhem around the city. We'll wade through these dispatches each week, pulling out information on traffic collisions and following up with Denver PD to get details, like which crashes resulted in "serious bodily injuries," as Denver PD calls them. Two people walking and one person skateboarding were seriously injured last week, for example.
The Hancock administration and Denver PD still lack a protocol for alerting the public to serious traffic collisions, despite the mayor's ostensible commitment ending traffic deaths, announced two years ago. Hopefully documenting this information will help drive change from decision-makers and elevate the profile of this public health crisis.