Changing How Denver Views Traffic Violence Through Art
Vision Zero street art may not literally save someone's life, but it has a role to play in the quest to end traffic deaths.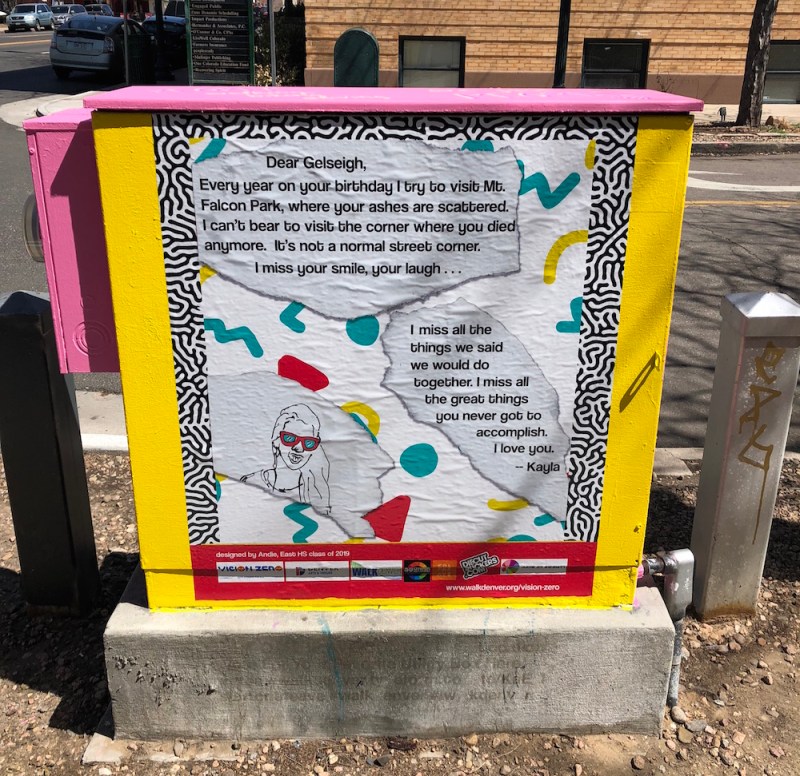 Motorists speeding down East Colfax Avenue will catch a glimpse of neon zeros popping off of once drab utility boxes and get curious about what they mean. People walking will get drawn in by the funky, electric paint job on the other side and read snippets about Denverites whose lives were cut short by preventable incidents of traffic violence.
These are the hopes of WalkDenver Executive Director Jill Locantore and the team of high school students, artists, city workers, and businesses who helped create Denver's first public art project dedicated to spotlighting traffic deaths. Under the banner of "Vision Zero," the Hancock administration committed to ending traffic deaths with better street design and public policy that puts human life above an unfettered, car-first transportation system.
"The art itself isn't lifesaving," Locantore says. "But in order to get to that point where we're changing people's lives, it's gonna take a cultural shift. Both within the city — how traffic engineers go about their work — but also the community support has to be there."
More than 630 people have been killed citywide since 2005 just trying to get where they need to go, with 250 people losing their lives while while walking or biking.
WalkDenver teamed up with East High School art students, So-Gnar Creative Division, the City and County of Denver, and the Colfax Business Improvement District to conceptualize, create, and fund the project which was completed last weekend. It stretches across 14 utility boxes on East Colfax from Logan Street to York Street.
"We just cobbled together all these stories from all these different sources and handed them over to the students and just let their imaginations go," Locantore says. "They came up with this idea of putting the text on a piece of paper which was then torn, which I think is so evocative. It's just these ripped up excerpts of people's lives that just give you a glimpse into who they are and what happened to them."
Some of those stories came from Streetsblog's reporting, some from letters of loved ones. All of them are meant to make people think about the human cost of a transportation system that could be designed for safety, but is not.
WalkDenver put together a Facebook photo album that's worth checking out. In the meantime, here are a couple more: