The Public Health Case Against CDOT's I-70 Expansion Reaches a Federal Judge Tomorrow
North Denver community groups and the Sierra Club are challenging Governor Hickenlooper's bid to build a wider urban freeway.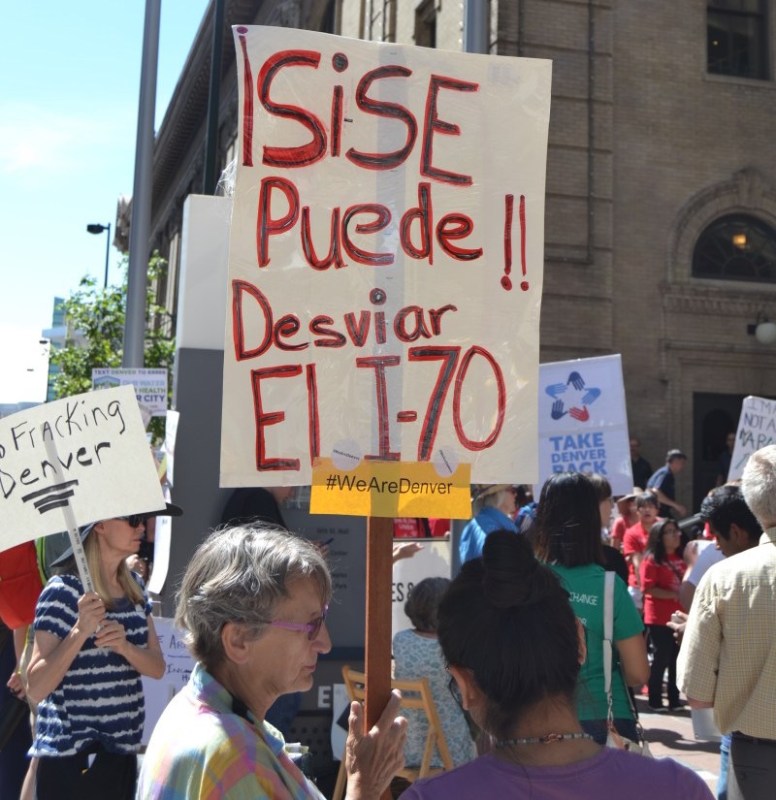 The coalition trying to stop Colorado DOT's I-70 expansion through North Denver will make their case to a federal judge Wednesday that CDOT and the Federal Highway Administration cut corners when measuring pollution, and that the freeway widening will violate the Clean Air Act.
North Denver residents don't buy Governor John Hickenlooper's claims that cramming more cars through the city will be good for their health. They have a compelling argument: Highway expansions induce more car traffic, and more car pollution through their neighborhoods will raise rates of asthma and heart disease.
That's the basis of the lawsuit against the FHWA filed by the Elyria and Swansea Neighborhood Association, the Chaffee Park Neighborhood Association, the Colorado Latino Forum, and the Sierra Club.
"The elevated frequency of hospitalizations of children with asthma, and deaths caused by heart disease, compared to other Denver neighborhoods not contaminated with highway pollution, show that I-70 is devastating the health of nearby residents," said Bob Yuhnke, the plaintiffs' attorney, in statement. "Sacrificing lives and burdening low-income families with asthmatic children to accommodate more vehicle traffic is not an acceptable public policy."
The Sierra Club says the goal is to stop construction "until strategies are implemented to limit emissions from the highway to ensure that air quality standard are not violated."
In court, plaintiffs intend to prove that the EPA's air quality standards, revised in 2012 and used by CDOT to justify federal funding, are too lax to protect residents from health hazards and premature death — and that the government cut corners in measuring future pollution.
The federal standards don't account for "exposure to complex mixtures of multiple pollutants emitted from highways," according to research from George Thurston, director of the Program in Exposure Assessment and Human Health Effects at NYU's Department of Environmental Medicine. Thurston also argues that research on the negative effects of particulate pollution has advanced significantly since 2009, and should be taken into account.
In addition, Dr. Greg Rowangould of the University of New Mexico Engineering School found discrepancies between the air samples FHWA took to measure pollutants around I-70, according to a statement from the Sierra Club. For the areas nearest the highway, where air quality would be worst, Rowangould says the feds used a sampling procedure that underestimates pollution. He concluded that "future traffic emissions will violate the national air quality standard."
"The I-70 expansion must be halted immediately," said Colorado Latino Forum board member Ean Tafoya. "These communities already face air pollution concerns. Adding more cars and construction vehicle pollution will only increase the harm."
Tomorrow's hearing will take place at 1:30 p.m. at the Alfred Arraj Courthouse.