Second Lawsuit This Week Opens Up Another Front in the Fight Against CDOT's I-70 Widening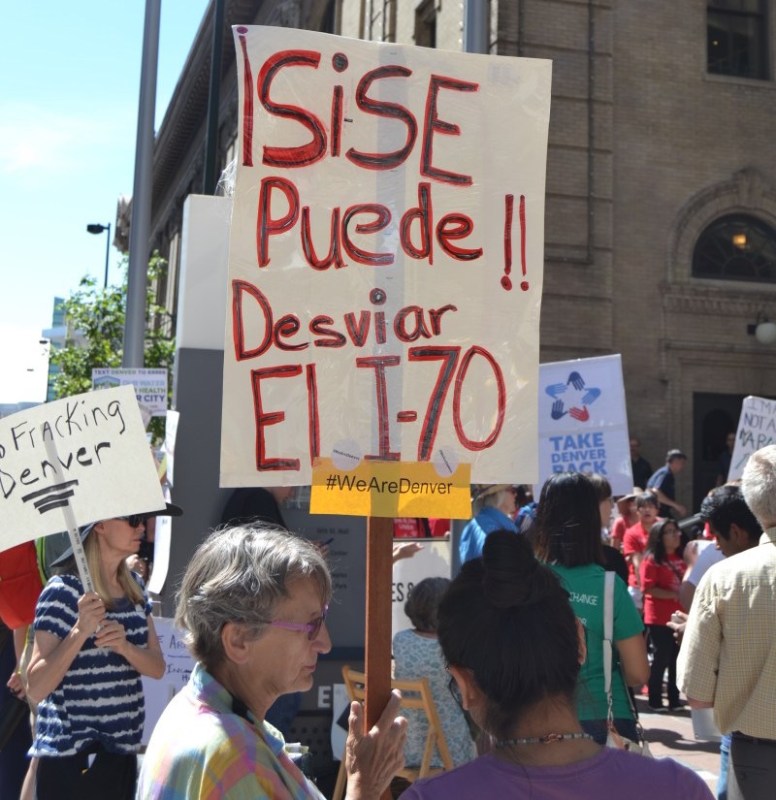 Advocates fighting the Colorado Department of Transportation's widening of I-70 have filed a another lawsuit against the Federal Highway Administration — the second one this week.
In their complaint, the Sierra Club, Elyria and Swansea Neighborhood Association, Chaffee Park Neighborhood Association, and the Colorado Latino Forum say pollution from the traffic-inducing project will violate the Clean Air Act. The suit also calls the feds' approval of the widening "unlawful" because CDOT did not adequately vet and disclose negative health impacts or properly evaluate other options, like a reroute around the minority neighborhoods of Globeville, Elyria, and Swansea [PDF].
"We think it may have the power to shut the project down," said Sierra Club Rocky Mountain Chapter spokesperson Becky English. "But Sierra Club's interest is not only in shutting this project down, but in setting a precedent so that such environmentally unjust and socially unjust projects cannot proceed in the future."
CDOT wants to make more room for cars by tripling the freeway's footprint at a cost to taxpayers of at least $1.2 billion (probably more when all is said and done), displacing people and businesses in the process. All this in the most polluted zip code in the country, populated mostly by Latino Denverites who are less affluent than the average resident.
The lawsuit cites a 2014 study by the Denver Department of Environmental Health that found people in neighborhoods next to I-70 have higher rates of asthma and cardiovascular disease than people who live further away from highway pollution. Children in these neighborhoods visit the hospital for asthma treatment 40 percent more often than other children, according to the suit.
"We feel that the environmental costs to the Hispanic community are egregious," said Ean Tafoya of the Colorado Latino Forum. "When it comes to Globeville, Elyria, Swansea, these are communities of color that were taken advantage of in the past, and we don't see the point in repeating the past."
The lawsuit, which names Secretary of Transportation Elaine Chao and FHWA Colorado Administrator John Cader as defendants, is the Sierra Club's second against the project. This legal action is "intimately linked" to the first complaint, English said, which claims the Environmental Protection Agency unilaterally lowered its air quality standards, allowing the I-70 project to go forward.
"If we get a favorable finding in the EPA suit, that will support what we're saying in the Clean Air Act suit," English said.
This is the fourth active legal challenge to the I-70 widening. Even as CDOT moves forward with awarding a large contract to a private consortium, the fight against this backward urban highway project is not over.