Bike Commuting Surges 25 Percent in Downtown Denver
Workers are 61 percent more likely to ride a bus or train if their employers offer a transit pass benefit. When a company provides free parking, employees are 101 percent more likely to drive solo.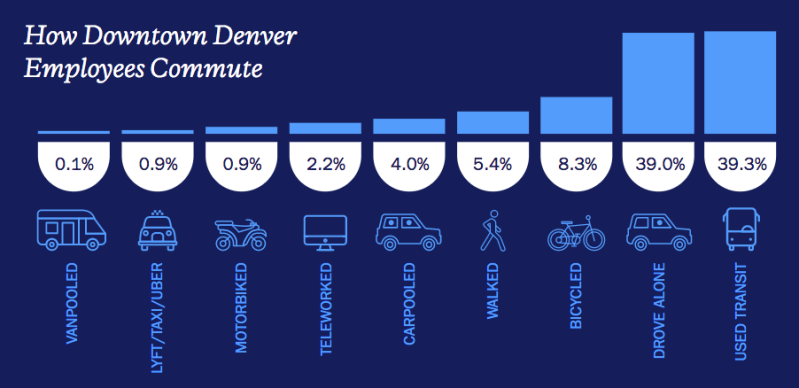 The share of downtown Denver commuters who biked to work increased 25 percent in 2017 compared to the previous year, the only mode of travel with a significant year-over-year change. Solo driving, car pooling, and transit all declined slightly.
That's according to the Downtown Denver Partnership's annual commuter survey, which asked more than 5,400 downtown employees how they typically get to work. DDP posted the main findings Tuesday and will release a more detailed report in March.
In 2016, 6.6 percent of downtown workers commuted by bike, which rose to 8.3 percent last year. The 2017 spike in bike commuting is "one of the most significant, if not the most significant change that we have seen" since the survey began in 2012, said Emily Brett, senior manager of economic development for the Partnership.
The growth in bike commuting follows the growth of protected bike lanes. In the last two years, Denver Public Works has installed a little over four miles of bikeways separated from car traffic by plastic posts, parked cars, and/or curbs downtown. Those lanes aren't perfect, but they're helping more people bike to work, said DDP Executive Vice President John Desmond.
"Without digging too deep into the rationale, I think clearly there's a cultural shift going on in downtown, and there's also been some significant infrastructure improvements over the last couple of years in protected bike lanes," Desmond said. "Now we all know we still have more work to do there, but I think that's one thing you can point to."
The share of commuters who took transit remained steady, falling a marginal .3 percentage points. There's a lot of room to improve here: Transit commuting to downtown remains well below the level it was at in 2013.
Solo car commuting dropped slightly as well — .4 percentage points — after rising in 2016.
Commuting by foot has remained essentially the same since 2015 at 5.4 percent.
These statistics are a good weathervane but it's important to keep in mind that they don't necessarily reflect citywide trends. They only capture one type of trip, commuting, in one geographic area, downtown. It's the city's top employment center and the most transit-rich, which makes it important to track, but not representative of the city as a whole.
Some other important findings from DDP's initial report: At workplaces that offer a transit pass benefit, employees are 61 percent more likely to ride a bus or train than at workplaces that don't offer the benefit. And when a company provides free parking, employees are 101 percent more likely to drive solo.