Want Great Bus Service on East Colfax Ave? Tell the City Not to Water Down BRT.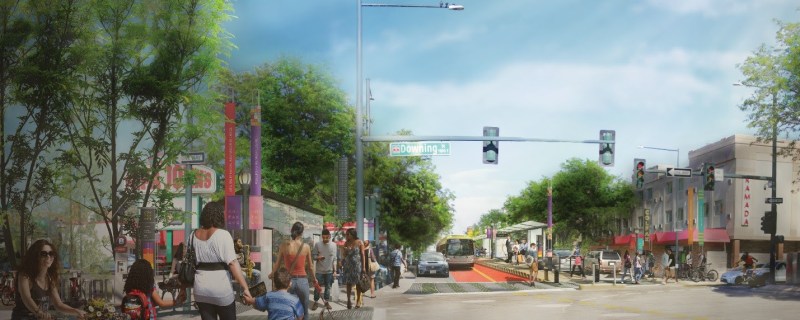 If they're loud enough, a small group of people can sabotage transportation projects that would benefit the entire city. To prevent that from happening, supporters of good transit and safer streets need to speak up for these projects, and the time to speak up for bus rapid transit on East Colfax Avenue is now.
Colfax BRT is the most important transit project in the city, and Denver is planning to do it right. The city's concept calls for repurposing the center of the street as a 24/7 busway. Transit riders will get faster trips and better stations, shielded from the elements. It's exactly the type of transit-priority project the city should be pursuing as it grows.
But the center-running version of the project is not guaranteed. Colfax BRT could be diluted into slower, conventional bus lanes.
The eventual outcome will depend a lot on an extensive public process, starting with a Denver Public Works survey.
We've seen that your voice does carry weight. DPW began re-imagining Colfax as a better transit street in 2012. For a while it looked like the street was destined for rush-hour bus lanes that shared space with cars at all other times — Transportation Director Crissy Fanganello called it "BRT lite." But feedback from residents (and Streetsblog) pushed the department to upgrade the project so it truly prioritizes bus service.
It takes about 10 minutes to fill out the survey. DPW will craft a more detailed design and create an implementation schedule next year, with construction planned for 2020.