Support Streetsblog Denver Because the Vision Zero Conversation Started Here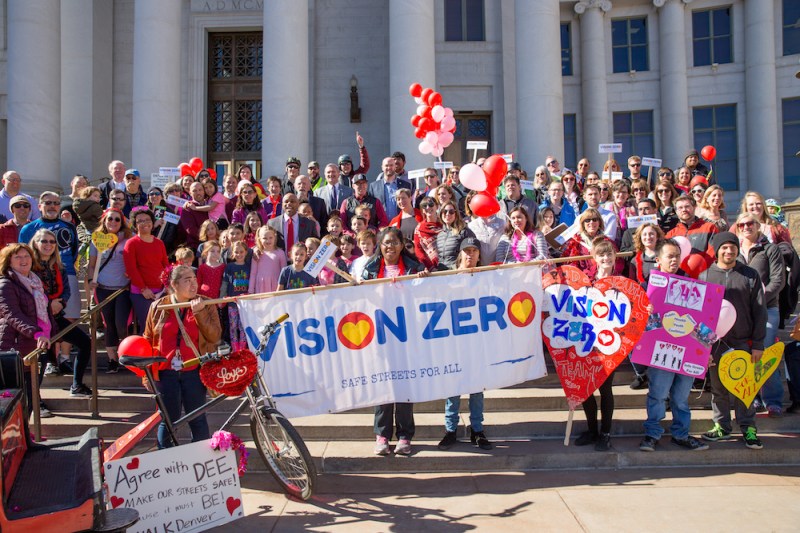 We're doing some back-patting to remind readers why donating to Streetsblog Denver's crowdfunding campaign is worth it.
If a dollar-for-dollar match from the Gates Family Foundation and the chance to win stuff from local businesses isn't enough, here's another reason to part with your hard-earned money and support hyper-local, independent reporting: The conversation around snuffing out traffic deaths and serious injuries in Denver began right here on this site.
The very first article Streetsblog Denver ever published called for the Hancock administration to get serious about street safety and adopt Vision Zero, the goal to end traffic deaths and serious injuries. The post compared the Mile High City's extraordinary traffic death rate to other cities', making it apparent that the problem needed urgent attention.
At the time Denver did not have a coherent plan for curbing traffic deaths, let alone ending them. The closest thing was a vague pledge by the Hancock administration to "take significant action over the next year to improve pedestrian and bicycle transportation safety" by way of a gimmicky federal initiative.
Streetsblog poked. And poked. So did advocates, whose voices gained volume here. The Hancock administration went from "taking a hard look" at Vision Zero to "It's not if, but when," to a full commitment to end traffic deaths and serious injuries by 2030.
Advocates formed the Denver Vision Zero Coalition and helped Denver Public Works create a long-term plan that enlists Denver PD, the Colorado Department of Transportation, and other groups across the city. Millions have been dedicated to the safer walking, biking, and transit, and we're starting to see early results.
It took many thousands of hours of work by many, many people to get to this point. And it started here. We'll be here to watchdog Vision Zero's implementation — but we rely on your support to ensure it.
Please make a tax-deductible donation today to keep progress like this coming. Thanks.