Denver Aims to Cap Parking Around 41st and Fox RTD Station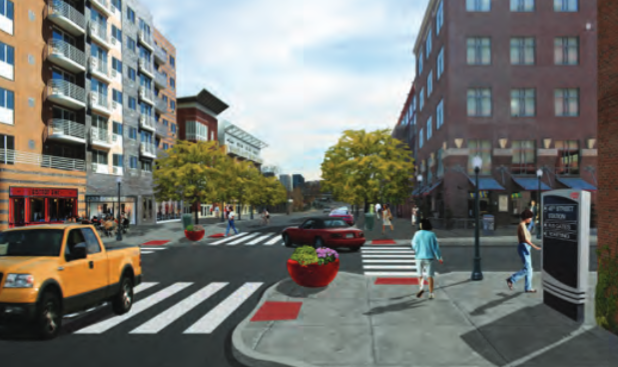 Denver Department of Community Planning and Development reps want to cap new parking spots around the 41st and Fox RTD station, an anchor of current and future development in Sunnyside and Globeville.
We knew parking maximums were on the radar, but implementing them would be a significant change of course for the city, which for decades has baked minimum parking requirements into the zoning code. Those mandates generate car traffic, saturate city blocks with sprawling parking lots and monolithic garages, and lard sidewalks with curb cuts where drivers cut across the path of people on foot. They are antithetical to walkability and good transit access.
CPD officials don't want this area — 184 acres they call "Fox Island" — to be a parking crater like so many other Denver transit stations, especially once the station opens (whenever the G Line does).
"In broad strokes, I think that Fox Island in some ways is the canary in the coal mine for the rest of the city," Transit Oriented Development Manager Chris Nevitt told the City Council during a meeting of the Land Use, Transportation and Infrastructure Committee last Thursday. "The problems here are particularity acute."
If all the development in the pipeline comes to fruition without a change in parking policy, he said, the resulting car traffic "will overwhelm the street network by multiple times."
Not only do parking mandates undercut walkability, they gobble up real estate that could otherwise house people and jobs. And with a construction price tag of $17,000 per stall, parking spaces drive up housing costs.
Parking caps are a tool to create more walkable streets "in areas where our vision is to prioritize people and walking land uses, and housing and jobs," Director of Planning Services Caryn Champine told council members.
CPD reps are not yet sure how many new parking spots will be allowed in the area once all is said and done. "At this point the math is still rough," Nevitt told Streetsblog. "Our goal is to set maximums tight enough to have a meaningful impact on traffic generation, but not so tight as to stifle good development.
"What is clear, however, as was identified in the station area plan, is that the existing roadway infrastructure, in the absence of any traffic mitigation measures, cannot support the full build-out of the area."
Better sidewalks, crosswalks, bike lanes, and bike parking will be part of the solution, Nevitt said. So will "transportation demand management" — incentivizing people to take transit, walk, and bike with things like transit passes and bike-share memberships.
The zoning change must go through a public review period, approval by the Planning Board, and adoption by City Council. The parking maximums will apply to what's considered the "station area" by previous plans. A draft of the zoning change will be ready in a few months, Nevitt said.