Next Wednesday: Speak Up for a Walkable, Transit-Friendly Quebec Street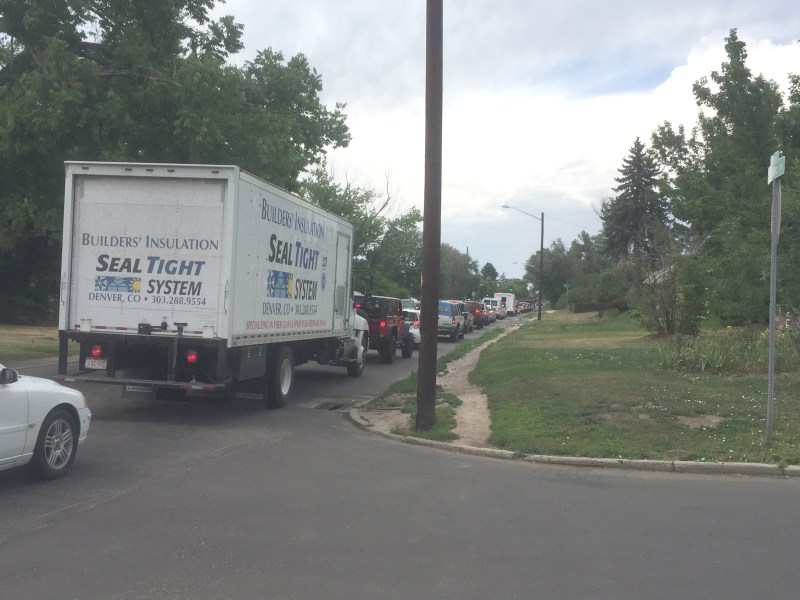 The Hancock administration's streets department plans to widen Quebec Street between 13th and 26th avenues in order to shove more cars through the residential neighborhood faster.
The project design is not final, and neither is funding, so Denverites have a chance to pressure Denver Public Works to hit the brakes on widening the street from two lanes to four (five at intersections) if not change the 1950s-style redesign to prioritize buses. DPW will hold a public meeting [PDF] on Wednesday, September 27, to talk with residents about the project. Anyone can show up and give city reps a piece of their mind.
On some blocks the street would go from 29 feet wide to 48 feet wide. Why? DPW claims spending millions will save drivers a little over three minutes during rush hour. We know that widening streets does not fix congestion — it generates more cars and traffic, encourages higher speeds, and creates longer crossings, discouraging safe travel.
Meanwhile Quebec Street is part of Denver's high-injury network. So it's one of 27 streets where about half of all traffic deaths occur. And the city's Denveright transit plan identifies Quebec as a candidate for high-frequency transit.
So why is Mayor Michael Hancock — who aims to end traffic deaths, decrease the city's driving trips by 23 percent, and double walking, biking, and transit trips — inviting more car traffic? That's not how the mayor meets these goals.
Pedestrian advocates WalkDenver stopped short of calling for an end to the widening, but are calling for any new lanes to prioritize buses, not cars.
"Simply widening Quebec would just create more traffic, encourage speeding, and make the street less safe for everyone," said WalkDenver Policy Director Jill Locantore. "With new sidewalks and dedicated transit lanes on Quebec, more people could travel more safely along the corridor, without relying on their personal vehicles to get where they need to go."
By the way, people walking, using a wheelchair, or waiting for the bus on this portion of Quebec Street have to trek through dirt, mud, and grass on segments where there is no sidewalk. Plans call for sidewalks to accompany the widening and a bike lane on Syracuse Street four blocks away. What a treat!
Furthermore, the city would have to cut into people's front yards to make this thing happen. Oh, and the the project could cost $23 million or $41 million; DPW isn't sure. That's just for the stretch from 13th to 26th — DPW would prefer this project start at 6th Avenue.
Wednesday's meeting is one to attend. It's at the Hope Center, 3475 Holly St., on Wednesday. Show up any time between 5:30 and 7:30 p.m. Spanish translation will be available.