No, Colorado DOT, Balloons Won't Stop Drivers From Killing People on Dangerous Streets
Another tone deaf PR campaign does nothing to solve a systemic problem.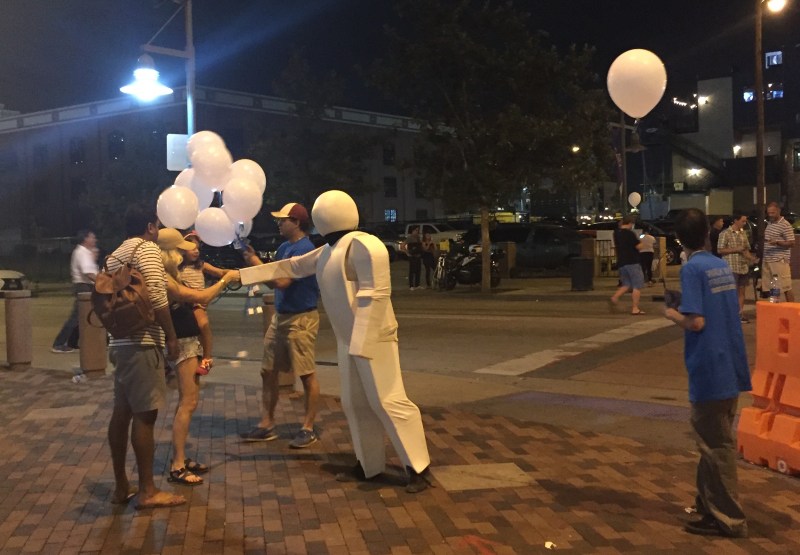 Last night, Colorado DOT reps stood at the same dangerous, high-speed LoDo intersection where a hit-and-run driver killed 26-year-old Steven Glade four days ago and handed balloons to people crossing the street.
You see, the white balloons contained LED lights, making people more visible to drivers as they crossed 20th and Blake after the Rockies game. Agency staffers stood at 15th and Larimer doing the same thing.
"We're out here doing public awareness to use the crosswalk and not jaywalk," one of the reps told passersby. They echoed a stat from a CDOT press release: "72 percent of pedestrian deaths occur after dark."
This spectacle was the latest PR event in a string of tone deaf campaigns from CDOT, which oversees the most dangerous streets in Denver. On Federal Boulevard, which the agency controls with the help of Denver Public Works, drivers have killed five people walking this year alone.
The campaign cost taxpayers $210,000, Colorado DOT spokesperson Sam Cole told Streetsblog. That money could have prevented more traffic collisions if CDOT had spent it to build a pedestrian island at the deadly intersection of Federal, 14th Avenue, and Howard Place.
We know how to make streets safe for walking. We need to redesign streets to calm traffic. We need more and safer crosswalks, shorter pedestrian crossing distances, safer intersection designs, and slimmer traffic lanes that send cues to drivers to stop speeding.
What won't fix the public health crisis of traffic deaths? Cursing the sun for setting each night and handing people balloons.