Private "Dockless" Bike-Share Companies Look to Launch on Denver Streets
Local startup UrBike, as well as bike-share companies Spin and LimeBike, are clamoring to set up shop, but the city needs to shape their operations in a way that enhances the transportation system.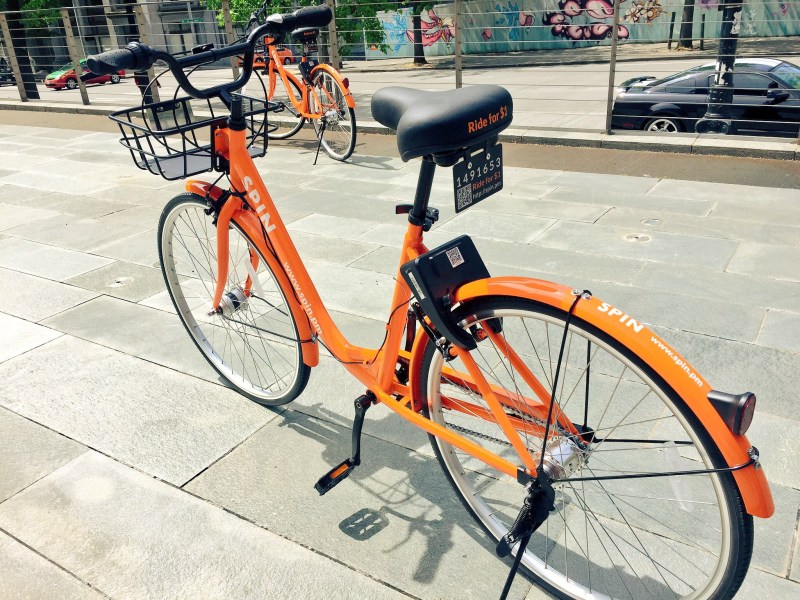 Three private bike-share companies are knocking on Denver's door, but the city isn't quite ready to let them in — not before there's a clearer understanding of where the bikes will be stored, and how private bike-share will help the city achieve its broader goals.
In contrast to B-cycle, which supplies bikes via fixed stations where users begin and end their trips, these new services are "dockless." Each bike has GPS and a lock controlled by a smart phone app, which lets riders use bikes without being tethered to a station. It's more flexible than station-based bike-share, but presents other challenges.
UrBike, a Denver startup, has asked the city for permission to operate. So have Spin and LimeBike, two companies that are also active in Seattle. First, Denver Public Works wants to set some ground rules.
"We're very interested in the concept because obviously we're in favor of things that make biking and walking easier and affordable," said Cindy Patton, acting parking and mobility manager with DPW. "But there's right-of-way implications and certainly obstruction of walkways and [Americans With Disability Act] access… that can happen if too many bikes pile up and aren't parked in a reasonable manner."
UrBike wants to deploy a system of 5,000 bikes throughout the Denver area. That could significantly expand access to bike-share in Denver. B-Cycle has 737 bikes, and doesn't reach much of the city. No stations exist north of River North, east of Colorado Boulevard or south of Wash Park, and the west side is lacking.
"I think the most important thing for us is, as the fundamentals of bike-sharing changes with technology, a rising tide floats all boats," said B-cycle Executive Director Nick Bohnenkamp. As the "incumbent," Bohnenkamp said he wants to see any new companies "build on the goodwill we've created." B-cycle will upgrade its bike tech eventually, too, he said.
American cities are still figuring out how the new generation of bike-share companies should fit in to the transportation mix. There are questions about the quality of the equipment, how well the bikes will be maintained, and whether the companies will complement or hinder existing bike-share services.
UrBike is looking at operating on college campuses, said Mike Pletch, the company's Colorado general manager, but wants to provide a service for the general public as well.
He has met with B-Cycle and said he wants to work with the city's established bike-share service in some capacity.
B-Cycle is an independent non-profit, not a city program, but Denver gave the company seed funding and continues to contribute $250,000 a year. Director of Transportation and Mobility Chrissy Fanganello sits on the board.
The city probably won't replicate that type of relationship with the new companies, but it's looking to leverage their interest in a way that advances public goals. For example, the city could require the companies to maintain a certain amount of bikes in low-income neighborhoods, Patton said.
Fanganello sent a letter to the new bike-share companies asking them to slow their roll while the city explores a regulatory framework.
"We need to decide internally whether it's going to be a kind of free market operation where you have a number of different companies operating, or we go with one sole provider, or we don't do it at all," Patton said. "All of those things are possibilities."
This story was updated to include Bohnenkamp's comments.