Here Are the Transportation Projects Mayor Hancock Wants to Fund With the November Bond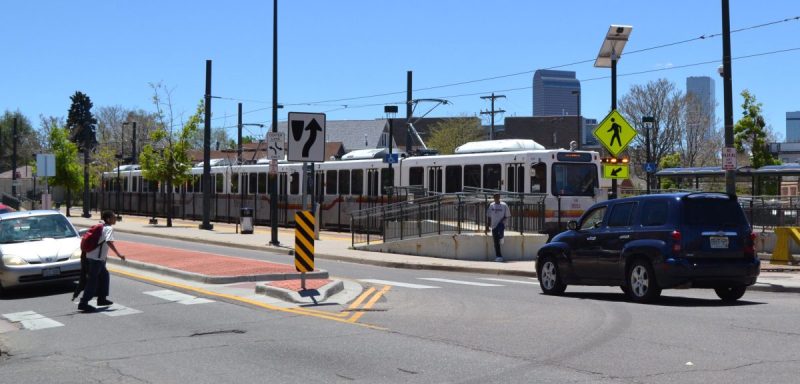 Mayor Michael Hancock finalized his list of projects he wants to see funded by a bond initiative Denverites will vote on in November, and a lot of good walking, biking, and transit projects made the cut. But so did $101 million for road maintenance that should be handled by routine annual budgeting, not a special bond — about 24 percent of all transportation funding on the list [PDF].
In total, the Hancock administration will ask voters to fund $937 million worth of projects citywide, $415 million of which currently relates to transportation. Now the project list is in the hands of the Denver City Council, which will make any final adjustments before it heads to voters.
Overall, Hancock improved on the list that a project selection committee recommended to him last month, adding $40 million for walking, biking, and transit projects. Among the changes are $14 million more for East Colfax crosswalks, traffic-calming, and other streetscape improvements.
Here are the other projects Hancock restored to the funding list:
$8.4 million for a pedestrian-oriented overhaul of Colorado Boulevard and Buchtel Boulevard at Colorado Station
$7 million for bicycle and pedestrian connections between Auraria Campus and downtown
$5 million for pedestrian safety fixes to Hampden Avenue
$3.7 million for walking and biking connections to the High Line Canal
$1.2 million for pedestrian safety fixes around the Yale RTD station
$1 million for bike lane and sidewalk improvements to Yale Avenue
Hancock's list also includes major projects that have remained in line for funding throughout the process. The amounts have changed, however. In general, Hancock is recommending more funding for walking, biking, and transit than the executive committee that issued recommendations to him, but less than the transportation subcommittee that took the first hack at prioritizing different projects.
Here's a look at how the funding levels for major projects in Hancock's list compare to what the transportation subcommittee initially suggested:
$55 million for Colfax bus rapid transit (same)
$18 million for protected bike lanes citywide (down from $30 million for building out the bike network)
$30.7 million for sidewalks citywide (down from 41.9 million)
$12 million for protected bike lanes and transit lanes on the Broadway corridor (down from $22 million)
$9.8 million for transit signal priority, queue jumps, bus bulbs and bypass lanes, and better bus stops/shelters on Federal Boulevard from 38th to Evans (same)
On the down side, the ill-advised $27 million widening of 56th Avenue made the cut. And the $101 million for road repairs — the same amount recommended to Hancock by the executive committee — is still a huge chunk of the overall pot for transportation. While road maintenance is very necessary, it's a core function of city government and should be paid for by the general fund, not a special bond intended for transformational projects.
Still, the vast majority of projects on this list prioritize people, not cars, and Hancock has moved the allocation of funds closer to the transportation committee's original vision.
City Council members will meet in public to review the projects with city staffers July 17 and 24. Council will then meet August 7 and 14 to consider the final package before finalizing the list that Denverites will vote on.
Here's the full list of transportation projects recommended by Hancock: