Step Right Up and Get Your 2017 Bike to Work Day Guide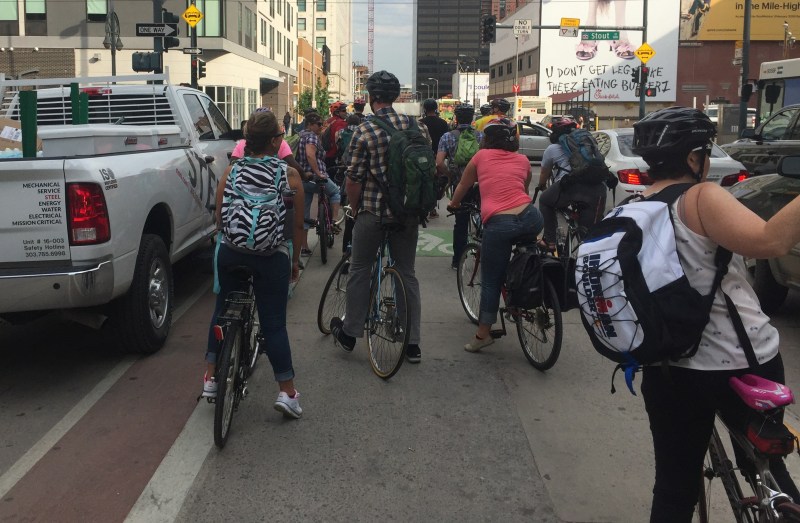 It's time for the one day of the year when the local media and public officials all pay attention to cycling. Bike to Work Day is Wednesday.
About 32,000 people are expected to register and bike to work, and there will be about 25,000 fewer vehicles on the road than on a typical workday, according to the Denver Regional Council of Governments.
Of course, it would be great if we had streets where people felt comfortable biking anywhere, every single day. And if public officials treated cycling as a normal mode of transport, worthy of attention and investment, all year long.
But enough about that — here's how to ride and have fun tomorrow.
Register — it helps DRCOG with data
DRCOG uses this event to better understand travel behavior. Who participates? Where do they bike? Go ahead and register with Big Brother. Down the road, it could help metro Denver get federal funding to promote bike commuting.
Grab breakfast in the a.m. or a beverage in the p.m.
Denver proper has 88 stations where people on bikes can stop for breakfast, coffee, or just a gulp of water in the morning. The Downtown Denver Partnership's pancake breakfast is particularly festive, and it looks like Denver Bike Cafe is taking care of the uptown area.
Post-grind, Bike Denver and DDP will host a happy hour at the Skyline Beer Garden downtown. Over on South Broadway, there's a party at Baere Brewing. Briar Commons Brewery has Jefferson Park covered and Goldspot Brewery will serve suds around Regis, Berkeley, and Chaffee Park.
The metro region has more than 300 stations. Here's a map so you can find morning and afternoon stations that work for you on your route.
Try riding an "active bike corridor"
This year DRCOG is promoting a handful of major on-street bike routes that converge at Civic Center Park. The idea is that "active bike corridors" will have a high concentration of riders, making the trip safer thanks to the safety-in-numbers phenomenon.
Watch out for closed trails
Various bike trails are closed for construction throughout the region, so take a look at this list of closures before you set out.
Here's a look back back at last year's event, which was happy at times and sad at others.