The Square on 21st Opens, Showing Denver What a Street Can Be When It Prioritizes People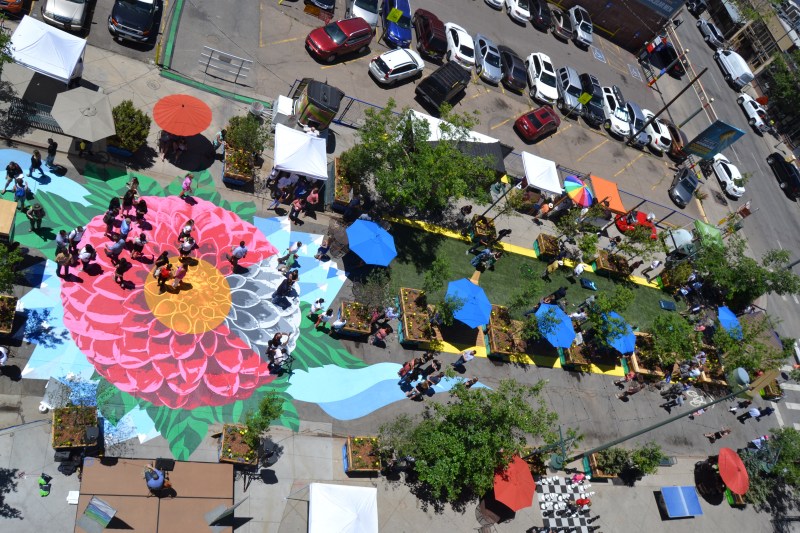 For the first time in Denver's history, a downtown street dedicated to the movement of cars has been transformed into a place for people that will last two months.
The Square on 21st, between Lawrence and Larimer streets, opened Thursday with speeches and shaved ice. And chess, and trees, a grassy area for games, a dog park, ping-pong, and a stage with live music. The pop-park is tactical urbanism project — a prototype — that lays the ground work for a permanent linear park-slash-urban-walking-and biking-loop.
"How cool is this?" Mayor Michael Hancock said. "The power of this moment is that, when it all goes well, we get a chance to take this model and move it to other parts of the city."
The Downtown Denver Partnership and the departments of Community Planning and Development and Parks and Recreation made the demo happen — along with a bunch of volunteers from area neighborhoods. Today's opening was more than a year in the making.
"This starts to show you what can become a reality," said Tami Door, president and CEO of the Partnership. "We'll continue to do this with our partners. We'll continue to think big… but most of all, we will continue to implement. Because in the end, all of the best ideas only matter if we actually make them happen."
The Partnership, CPD, and the Department of Public Works have bigger plans. When all is said and done, downtown streets on the planned loop could look something like this:
Until then, here are a bunch more scenes from today's opening of The Square on 21st.