Eyes on the Street: New Pedestrian Islands on Morrison Road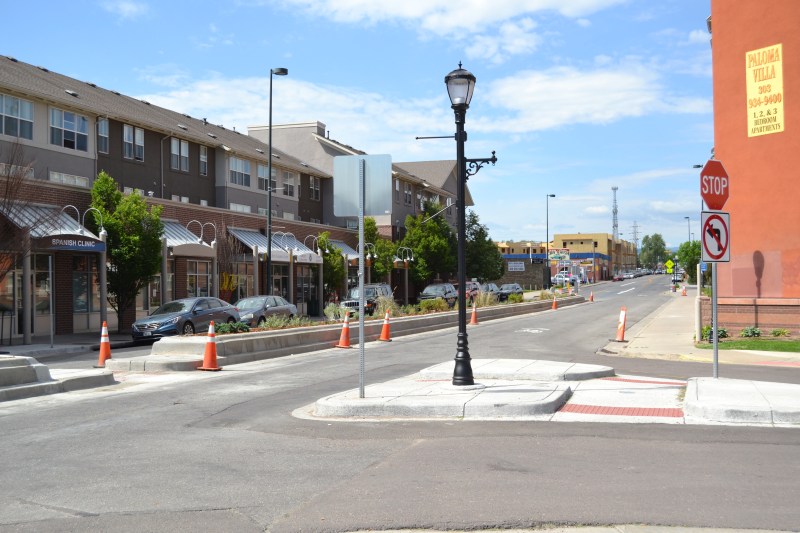 Denver Public Works is making progress on a safer Morrison Road in Westwood.
Last month crews installed a median between Perry and Raleigh streets, with refuges for people crossing. They also built a pedestrian island on Raleigh that breaks up the crossing and should compel drivers to take turns more carefully.
"As part of Denver's Vision Zero commitment to eliminate traffic deaths and serious injuries on our roads, the city is enhancing intersections to help ensure people on foot reach their destinations safely," DPW said in a statement. "The medians will serve to calm traffic and provide an additional safety measure for pedestrians crossing Morrison Road at Raleigh Street."
The median makes the lanes on Morrison Road feel slimmer, which should calm traffic. Plus the plantings look a lot better than the dark gray asphalt and striped yellow lines they replaced. Overall this block feels more scaled to people.
Drivers seriously injured five people walking and four people biking on Morrison Road between 2012 and 2015, according to city data.
This project is one of several recent changes around the city to create a safer walking environment, and there are more people-friendly changes in the works for Morrison Road and Westwood.
Denver still has a very long way to go on its pedestrian network, but it's good to see the city continue to roll out improvements like this one.