Broadway Redo, Sidewalks, and Bike Network Take Hit on Latest Wish List of Capital Projects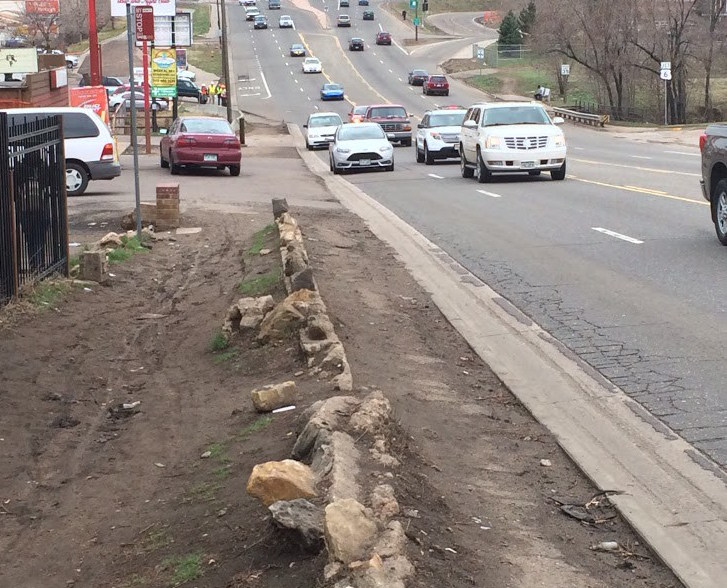 The people in charge of recommending a list of projects to the mayor and City Council, which will be paid for with a November bond measure, slashed more than $34 million in funding for the redesign of South Broadway and the build-out of Denver's sidewalk and bicycle networks Friday. The biking, walking, and transit projects are still alive, but smaller in scope.
Though Friday marked the last public executive committee meeting, chair Roxane White insisted the project list is not final — that it will be massaged before finalized and presented to Mayor Michael Hancock next week.
Transport infrastructure comprises half of the projects from the package, which totals $749 million. (The bond will be worth between $800 million and $900 million, depending on the economy. Committee members left $50 million untouched to give the mayor and City Council some wiggle room before approving the final list for voters.)
The committee had to close a gap of about $200 million Friday in order to make its recommendations to Hancock and the City Council — both of whom can (and will) adjust the list further.
"This isn't over," said City Council President Albus Brooks, who sits on the executive committee.
Watering down Broadway, the bike network, and sidewalks
The transportation subcommittee recommended fully funding the flagship Broadway redesign at $22 million. But the executive committee recommended allocating just $12 million. That total covers a two-way protected bike lane, a 24-hour bus-only lane, and pedestrian crossing improvements along South Broadway from I-25 to the Cherry Creek Trail/Speer Boulevard. The original figure would have funded the entire project, from the freeway to Colfax Avenue.
Committee members also targeted walking and biking infrastructure in general, cutting about $12 million from citywide sidewalk construction, and another $12 million from phase two of Denver Moves Bicycles, the city's woefully underfunded plan to build a functional, connected bike network.
"If our administration is serious about 2017 being the year of mobility then it's important the bond fully fund the citywide bike and sidewalk infrastructure requests presented by Denver Public Works," Bicycle Colorado Denver Director Piep van Heuven told Streetsblog.
The next phase of Denver Moves would cost $30 million, according to DPW. The $18 million recommended by the executive committee would cover all the protected bike lanes in phase two and some of the "neighborhood bikeways," which create streets that prioritize people on bikes and pedestrians by compelling slower driving through design, DPW Urban Mobility Manager Emily Snyder said.
The recommended cut to sidewalk funding ($41.9 million to $29.7 million) means Denverites will have to wait even longer for a fully built-out network of the most foundational transportation infrastructure known to humankind — sidewalks. DPW would prioritize connections to transit with the money, Snyder said.
Road-widening project hogs money from modern transport
Hancock himself has said that Denver can't build its way out of congestion. Yet the bond committee is pushing forward a 1950s-era project that would attempt to do just that. The group will recommend spending $27 million to add two lanes to 56th Avenue between Peoria Street and Peña Boulevard. The widening would set the table for a six-lane road in the future, according the project description.
For the cost of widening 56th for three miles, the city could build 67 miles of protected bike lanes and 90 miles of sidewalks. Oh well.
Colfax bus rapid transit stays safe
The committee opted to keep the only project on this list that's arguably as catalytic for 21st-century streets as the Broadway redesign: Denver's first bus rapid transit line, or BRT, along East Colfax Avenue.
At $55 million, the Colfax BRT project would repurpose two car lanes for buses. DPW is considering a system that runs along the center of the street, with signals that give transit the priority at intersections to speed up bus trips.
Other projects that made the cut
These projects will be funded, but often not at the levels recommended by the transportation subcommittee.
Transit signal priority, better bus stops, and bus bulbs on MLK, Federal, Alameda and West Colfax: $9.8 million (down from $20.4 million)
Bike-pedestrian bridge over from Jewell Avenue, over Santa Fe Boulevard, to the Evans RTD station – $13.3M
Globeville, Elyria, and Swansea "connectivity" (sidewalks, bus stops, bike lanes, crosswalk improvements, and curb ramps) – $17 million
West 13th Avenue multimodal reconstruction/realignment – $16.7 million
Road diet, sidewalks, and tree lawns for Morrison Road ($8 million down from $19.5 million)
Sheridan Boulevard sidewalks – $2.5 million
Washington Street reconstruction from 47th to 52nd – $23 million. (There's no blueprint for this project yet — but the project description indicates widening Washington is possible.)
Colfax Avenue crosswalks, curb extensions, and streetscaping – $6 million
47th and York crossing – $9.4 million (down from $11.9 million)
8th Avenue bridge reconstruction – $8.6 million
16th Street Mall streetscaping – $13 million
Even with the cuts, every dollar for transit, walking, and biking is a dollar that wasn't there before.
An earlier version of this article put the Morrison Road project at $8.4 million. It costs $8 million. An earlier version also omitted the Globeville, Elyria, and Swansea connectivity project.