What Good Is New Bike Safety Tech If CDOT Still Won't Build Safe Streets?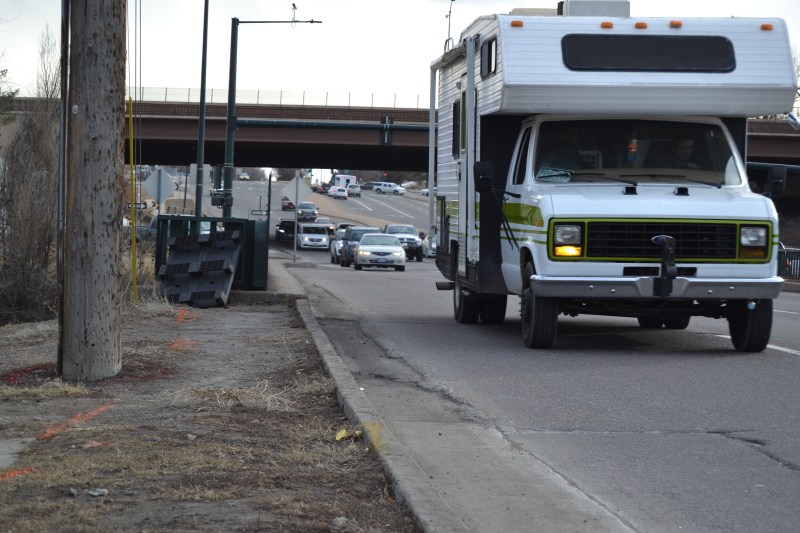 The Colorado Department of Transportation, which has never built a protected bike lane in Denver, awarded half a million dollars Tuesday in its ideas competition for "innovative solutions" to make streets safer for people on bikes and, to a lesser extent, pedestrians.
Some interesting ideas came out of the contest: A bike bell that lets riders record and map dangerous locations for city transportation departments, a bike lane that lights up to highlight riders at night, lasers that show drivers whether they're giving cyclists the required three feet buffer as they pass.
These might do some good, and you can't blame creative thinkers for answering the call. But for CDOT, which has failed to redesign its streets for safe biking and walking, the whole competition feels like an attempt to change the subject.
Agency spokesperson Amy Ford said CDOT is just trying to prioritize people who aren't in cars. "There are a lot of people talking about self-driving cars but there are not a lot of people talking about how technology can be harnessed to benefit those most vulnerable on our roads," she said.
Meanwhile, pedestrian and bicyclist deaths in Colorado are at a 15-year high. We know how to prevent these fatalities: Narrower traffic lanes, shorter crossing distances for pedestrians, and bike lanes physically separated from traffic to slow down drivers and keep the most vulnerable people safe.
Where is the CDOT initiative to roll out these proven life-saving safety measures?
Ford admitted to a crowd at the awards reception that "there's more that can be done" with protected bike lanes and that CDOT engineers "are looking at that."
We've heard this before though. Changing high-speed, 1950s-era street designs that kill people on urban state highways like Federal Boulevard, Colfax Avenue, and Sheridan Boulevard should be the agency's top safety priority. But when it comes to saving lives, CDOT prefers marketing campaigns and unproven tech — the path of least resistance and smallest results.
idea submitted to the idea-a-thon. I think it has potential! pic.twitter.com/sFP6IgPiHk

— Jody Robins (@jodycrobins) January 26, 2017