Don Hunt Throws Walking, Biking, and Transit Under the Single Occupancy Vehicle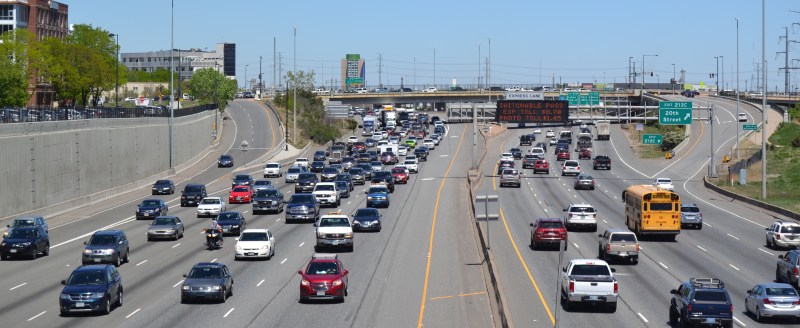 Don Hunt, the former Colorado DOT director, wants Denver to spend more on cars.
Yesterday, at a meeting of the executive committee tasked with finalizing a project list for a November bond measure worth up to $900 million, Hunt said he was "dismayed" and "still smarting" from the lack of projects for cars and deferred road maintenance on the shortlist.
The citizen-led Transportation and Mobility Stakeholder Committee, which Hunt chairs, had whittled down the project list from 100 items to 32, totaling $500 million. Hunt moderated those meetings, remaining neutral most of the time. On Thursday, his job was to report on that process to the executive committee, which will then make its own recommendations to the Hancock administration and City Council about what to fund.
But Hunt did much more than that.
At one point, Hunt compared the group's vision for an efficient network of transitways, bike routes, and pedestrian infrastructure to "Portlandia." Though improvements to the city's bus network account for more than $100 million of the sub-committee's recommendations, Hunt did not mention transit once in his testimony.
"If the purpose of the [general obligation] bond is to move totally away from investments in personal automobiles and towards other types of mobility — walking, biking — it does that," he told the executive committee via speaker phone.
Hunt framed his sub-committee as argumentative and uncompromising, much to the surprise of committee members in the room.
"I ran the committee to try and keep a group of very, very, very, opinionated people working together," Hunt said. "It was very demanding to come up with a final recommendation… This was a committee that does not speak easily with one voice."
But the committee vote on its highest-priority projects was unanimous, said committee member and Denver Director of Bicycle Colorado Piep van Heuven. Another vote, which allotted $50 million for deferred maintenance, was not exactly a nailbiter.
"I was puzzled by Don's remarks because the vote on deferred maintenance was 15 to 3 in favor," van Heuven said.
Of course there were debates before those decisions were reached, but that's healthy when hundreds of millions of dollars are at stake. What Hunt seemed to be protesting, more than the process, was the result.
Hunt clearly wants more spending on roads. Aside from the $50 million for deferred maintenance, the list includes widening Peoria Street and major bridge projects with maintenance baked in. That's not enough for Hunt, who cited "parts of the city where the roadway system is not built out." (Never mind the sidewalk network, which has been unfinished since the city's founding.)
"There was very little room to have that conversation because of the adamant opinions of a significant number of the committee members, who wanted to argue in all instances," Hunt claimed. "And there was very little room to discuss deferred maintenance. You know, I'm still smarting a little bit."
Hunt wasn't off the mark though when he called the group's decision "the most incredible change in view, of a city, that I've ever witnessed in a ten-year period."
That's a good thing. This group of volunteers, selected by the mayor's office, carefully deliberated for more than two months and identified a list of investments that aims to move Denver forward with better transit, walking, and biking.
"I think [the transportation subcommittee] is definitely representative of some of the experts in the community associated with transportation," said JJ Niemann, president of the Inter-Neighborhood Cooperation and a member of the executive committee. "So I think we definitely need to take into consideration… their recommendations. I don't think it's based in some sort of nonscientific analysis."
Stewart Tucker Lundy, co-chair of the Transportation and Mobility Committee and an advocate for Denverites with disabilities, had the last word for the executive committee.
"I just want to say… that the committee that I was a part of was extraordinary," Lundy said. "I invite you to come to our committee [meeting] and, I'm just gonna say, have your own eyes. Please."