Breaking Down What the State Transport Bill Does for Walking, Biking, and Transit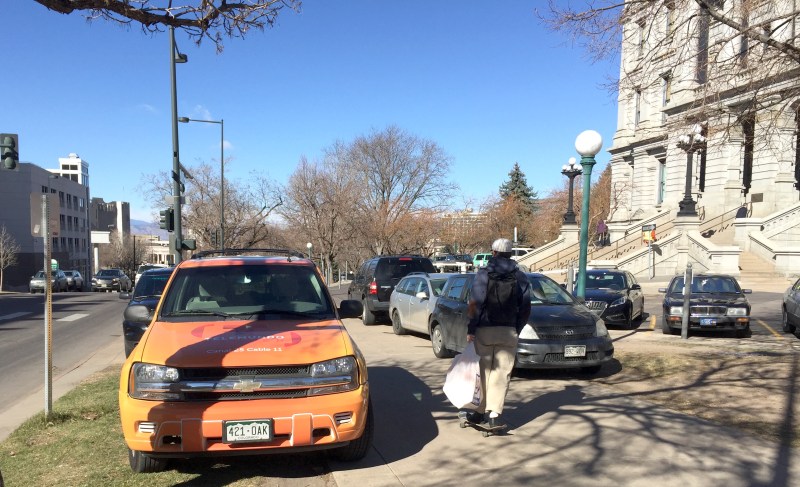 Colorado lawmakers took a step closer to finalizing a transportation funding measure that would go before voters in November. The bipartisan bill consists of a small sales tax hike — .62 cents on the dollar — and a $3.5 billion bond package. Combined revenue would come to an estimated $627 million a year over the next 20 years.
Advocates have called on the state to drastically increase investment in transit, biking, and walking, so to get a better understanding of whether this bill delivers, Streetsblog spoke to Will Toor of the Southwestern Energy Efficiency Project and Danny Katz of the Colorado Public Interest Research Group, two organizations that have followed the process closely.
"It's a good step," Katz said. "We have huge multimodal needs in our state. This bill will not meet all those huge transit, walking, and biking needs, but it's definitely a good step forward."
Here's how the funding measure breaks down.
About half of the money is reserved for Colorado DOT

The bill sets aside $300 million for Colorado DOT each year. CDOT would finalize a project list after the bill is passed, but before voters go to the polls, meaning legislators would pass the bill without knowing exactly what CDOT would use it for. This being CDOT, widening I-25 is probably in line for the funding, but the agency is free to spend the money on bus lanes or street safety projects if it chooses.
The other half will go to cities and counties
Of the remaining money, which will fluctuate each year according to sales tax receipts, 70 percent will be distributed among cities and counties. Municipalities have complete control of those dollars. Denver could spend its money on sidewalks and bike lanes if it wanted, or put it toward building a bus rapid transit corridor, or widening a road — it will be up to City Hall. The money could be used for capital projects, like street redesigns, or operations, like bus service.
Transit, walking, and biking get dedicated funding

The other 30 percent of non-CDOT revenue gets funneled into a statewide "multimodal transportation options" fund for transit, biking, and walking projects. A committee of people from local governments, transit agencies, regional planning organizations, and an "advocate for affordable transportation" will decide where the money goes.
An interesting wrinkle is that municipalities would have to match the grants from this fund, stretching how far the funding will go. (As the bill is written, the match only applies to transit projects, but Katz believes that's a drafting error. The offices of Senate President Kevin Grantham and House Speaker Crisanta Duran, two of the bill's sponsors, have not returned queries.)
Where do we go from here?
Lawmakers will review the bill in a committee session, likely within the next couple of weeks. There could be amendments, like eliminating the matching requirement for smaller towns, Toor said. Then it has to clear the Democrat-controlled House and the Republican-controlled Senate.
Some Republicans hate the compromise but GOP senators Grantham and Randy Baumgardner, chair of the Senate Transportation Committee, are co-sponsors with Duran and Representative Diane Mitsch Bush, both Democrats.