Announcing a New Series — Are the Roads Working This Week?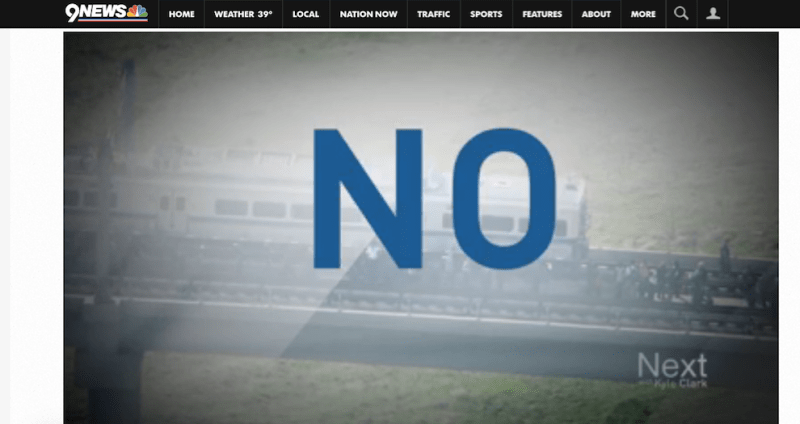 When RTD opened the A-Line between Union Station and Denver International Airport last year, Kyle Clark, the affable host of Next on 9News, began a cheeky segment called "Is the A-Line Working Today?"
In each installment, Clark tells viewers whether the A-Line has any delays. He once called it his "all time favorite segment."
It may be fun to hate on the A-Line — it's had no shortage of growing pains. But its 87 percent on-time performance rating isn't so bad when you compare it to metro Denver roads.
So Streetsblog Denver is starting a new series: "Are the Roads Working This Week?"
@nexton9news is the A train working (yes) is i70 working (debatable) pic.twitter.com/dk4vzolMkS

— Jamie Perkins (@perkja) February 10, 2017
Each week, we'll share stories and tweets from around Denver checking in on the performance of a transportation system that's prone to unpredictable delays and violent high-speed wreckage. It might be a picture of a traffic jam, or a news story shrugging off a crash as the cost of doing business. Use the hashtag #CarsAreTraffic to share stories or photos on Twitter and Facebook.
It's easy to pick on a train — after all, transit is still viewed as "alternative" transportation in Denver. But the real strain on the city's transportation system comes from our dependence on space-hogging motor vehicles.
To share photos or stories, email us or post them on Streetsblog Denver's Facebook and Twitter pages. Use the hashtag #CarsAreTraffic. If you want, go ahead and let Clark know there's another perspective out there. His show uses the hashtag #HeyNext and is active on Twitter and Facebook.