Wednesday: Lobby Your Legislators for Safe Streets for Biking and Walking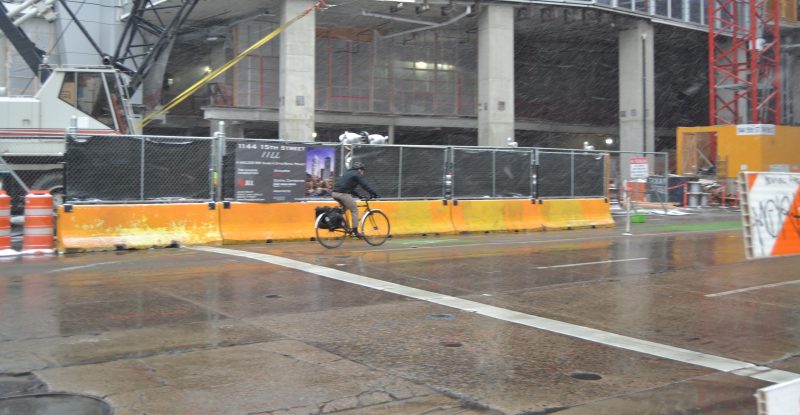 When it comes to building a safer and more convenient environment for biking around Denver and Colorado, Bicycle Colorado does a lot of the grunt work, meeting behind the scenes with legislators and their staff to lobby for more bike-friendly streets.
But the statewide bike advocacy group needs everyday people to speak up too, so that politicians keep their constituents in mind when crafting and voting on legislation, for instance, and determining how transportation funds are allocated. There's a special day just for that — "Safe Streets Day at the Capitol" — and it's Wednesday from 8 to 10 a.m.
Basically, you head to the capitol for a free, casual breakfast and Bicycle Colorado will help connect you with your representatives. Here's more from the advocates' website on how it will work:
The lobby day is somewhat of controlled chaos, but in a good way. It gives you a look behind the scenes of advocacy and allows you to be part of democracy in action. We want you to feel empowered to lend your personal voice to bicycling issues facing our state. Elected officials generally take seriously the concerns expressed in person by those they directly represent.

The way it works is that we host a light breakfast, encouraging legislators and their aides to come by, grab a bite and briefly meet with any of their constituents attending. There is no schedule and no appointments; it's more of a 'catch as catch can' environment.

Don't be intimidated! You'll only get a few minutes with your legislators. We will provide talking points to everyone who registers and be there to guide you should you have questions.
Here's what you and Bicycle Colorado will be lobbying lawmakers for:
Funding for biking and walking in a statewide ballot measure that will likely ask voters to pay more taxes for transportation infrastructure. Car-centric things like roads and bridges have dominated the discussion, but transit, biking, and walking must get a fair shake — on urban, suburban, and rural streets — in order for the state to address traffic, pollution, and equitable access to transportation.
Ending the dangerous practice of "rolling coal." There's this alarming and illegal thing some car and truck drivers do called rolling coal. Believe it or not, some people (illegally) modify cars and trucks so that they blow smoke into the faces of people biking and walking. "Unfortunately, Colorado's laws make it almost impossible for police to ticket coal rollers," Bicycle Colorado says. "A new bill, headed for a full vote in the house, will make it easier to police this already illegal activity."
Clarify statewide eBike regulations. Electric bikes, or "eBikes," make riding easier for cyclists who need a boost getting up hills or carrying cargo — and kids. "Colorado helped our state be one of the first to define electric-assist bikes in 2009," says Bicycle Colorado. "This year, the eBike industry has come together to agree on a specific classification system to improve safety and enforcement. House Bill 1151 would align Colorado's definitions with the national standards."
The Colorado State Capitol is at 200 E. Colfax. Bicycle Colorado asks that Safe Streets Day visitors register in advance to help organizers plan ahead.