Fixing Denver Transit: Making a Place for the Bus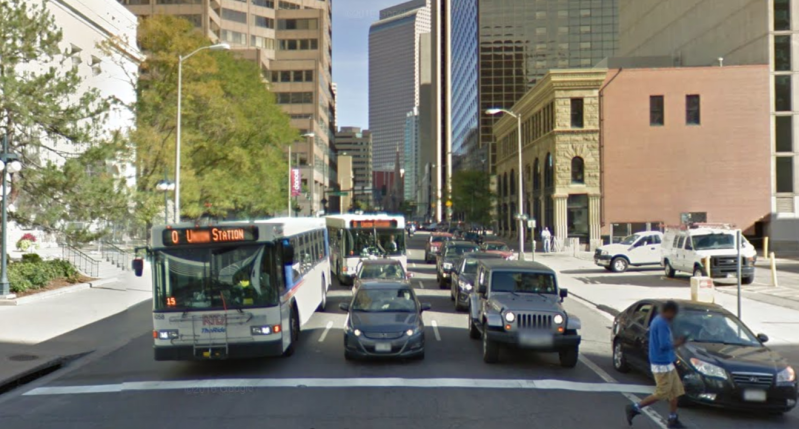 This post is part of a series on fixing Denver's transit system, based on the city's newly-released "State of the System" report.
If Denver's going to keep people moving as it grows, it needs to devote a lot more street space to buses instead of cars.
When street design doesn't differentiate between one person driving an SUV and 40 people riding the bus on a busy avenue, the result is inefficiency that slows the transportation system down. The 15 and the 83 get mired in the morass of private automobiles clogging Colfax and Leetsdale.
What Denver needs is more dedicated bus lanes.
The last time Denver Public Works gave buses dedicated space a public street was 35 years ago, when the 16th Street Mall opened. Denver has bus lanes on just two other city streets, the rush hour lanes on Broadway and Lincoln.
The city's transit system has been in the hands of RTD since 1969 and, until recently, DPW has been happy to forego responsibility for transit. But the agencies will have to work together to speed up surface transit, because DPW controls the streets where RTD buses run.
"When I'm talking to city officials, I will always say, look, I know you think that RTD does your transit to you or for you," transit expert Jarrett Walker told Streetsblog last year. "But in fact, land use and street design are also transit decisions that make an enormous difference." Walker is a consultant on the city's first transit plan, one of four city plans currently in development under the "Denveright" umbrella.
The State of the System report points to Seattle and Portland as cities where Denver could learn a thing or two about dedicating street space to buses.
A two-mile stretch of Seattle's 3rd Avenue — a four-lane street — is dedicated almost entirely to transit during rush hour. There's also a transit tunnel beneath 3rd Avenue, and 1st Avenue will soon have a streetcar with a dedicated lane.
Portland's transit mall is comprised of two streets — 5th and 6th avenues — that provide "one lane for private vehicles and bicycles, one lane for through-running transit vehicles, and a third lane for buses and trains to stop at their respective stops and stations," according to the report.
Where Denver does have dedicated bus lanes, ridership is high: On a typical weekday, RTD's Mallride carries 44,000 passengers along the 16th Street transitway. Route 0/0L, along Broadway and Lincoln, carry about 8,800 passengers per day with dedicated bus lanes during rush hour. Along with Colfax Avenue, Federal Boulevard, and Colorado Boulevard, it's one of the city's busiest routes. But those streets don't have bus lanes.
Dedicated bus lanes on Colfax could move 50,000 passengers each day — more than double the current daily ridership of 22,000. That's the kind of change Denver needs to bring to its increasingly in-demand streets.