Bike Projects Planned For 2017, and What Didn't Happen in 2016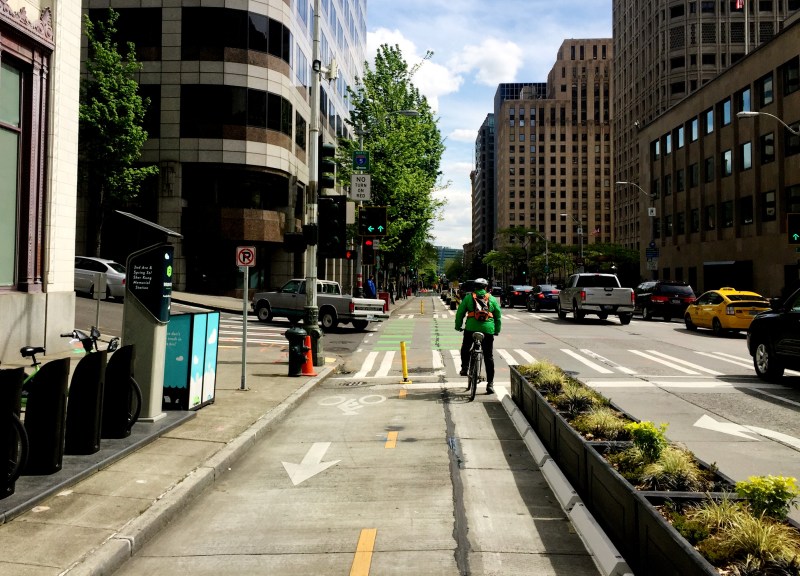 It's time for the State of Biking in Denver, when Denver Public Works reveals how streets will change in the coming year to make biking safer and easier. The annual breakfast took place yesterday as part of Winter Bike Week.
While BikeDenver, the Downtown Denver Partnership, and Bikes Together gave an update on how they plan to get more people riding, Denver Public Works shared a list of projects it hopes to get done this year. Here's a look at what's in store for 2017 (and what didn't happen in 2016).
Four New Protected Bike Lanes
14th Street from Market to Colfax: Between the Denver Performing Arts Complex, the convention center, and a bunch of hotels, the 14th Street striped bike lane might as well not exist — drivers constantly park in the lane to load and unload passengers. That won't be possible when this bike lane is finished, because a row of parked cars plus a 1-foot tall curb will separate bike riders from auto traffic, like so:
14th Avenue from Speer to Bannock: A row of parked cars will buffer people on bikes from motor vehicle traffic, like on Arapahoe and Lawrence streets. Unlike Arapahoe and Lawrence, the painted buffer between parking spaces and the bike lane will be a solid tan instead of a striped marking.
Brighton Boulevard from 29th to 44th: These raised bike lanes are part of a huge redesign of the street that may or may not be completed this year. About 25 percent of the lanes will be protected by parked cars as well.
19th Avenue between Broadway and Park: This one's a little misleading because the bike lane will only be protected, by a curb similar to the 14th Street design, for three blocks of the eight-block bike lane. But! DPW will install the lane as part of a two-way conversion to the current one-way street. That's good for people.
New Protections for Existing Bike Lanes
DPW will test new types of barriers that physically protect bicyclists from speeding motorists (instead of plastic flex-posts, as on 15th Street, that aren't as effective in keeping drivers out). Crews will only install them on parts of the lanes to study how well they work before implementing permanent fixes.
Two "Neighborhood Bikeways"
This is what DPW calls streets that don't necessarily have bike lanes but are designed to prioritize walking and biking. They include traffic-calming measures like "bump-outs" (extending curbs further into the street at intersections) and "diverters" that block through-driving for cars but allow bikes. Bikeways could also include bike signals, signs, sharrows, and bike boxes, which give bicyclists a head start at traffic lights and make them more visible to drivers.
We should see the new street designs this year on Knox Court from Kentucky Avenue to Nevada Place in Westwood, and on West 35th Avenue in Highland and West Highland.
Curb Your Enthusiasm?
These projects represent progress on Denver's streets. If they happen.
DPW promised a lot of new infrastructure last year, including several of the projects on the 2017 docket. Of the two to three protected bike lanes expected last year, just one happened — Stout Street — and DPW watered it down to appease people who complained about parking. Fourteenth Avenue and 14th Street got pushed up to this year because of problems with contractors and design, DPW senior planner Rachael Bronson said. The department planned to test planters and concrete barriers on 15th Street last year as well, but didn't have enough money and workers to do it.
Blame Mayor Michael Hancock's meager funding for Denver's bike program.
That being said, Bronson said DPW added bike lanes that "were not planned at the start of the year but we added when the opportunity arose," including bike lanes on Lowell Street and 41st Avenue, "bikeway improvements" around the 41st and Fox RTD station, and bike lanes connecting West 2nd Avenue to the Platte River Trail.
DPW did make good on its promise to improve bike lane snow removal by purchasing two special plows, and also added bike counters to the Lawrence and Arapahoe bike lanes.