Of Course the Broadway Bike Lane Is Moving Forward, and Will Probably Be Extended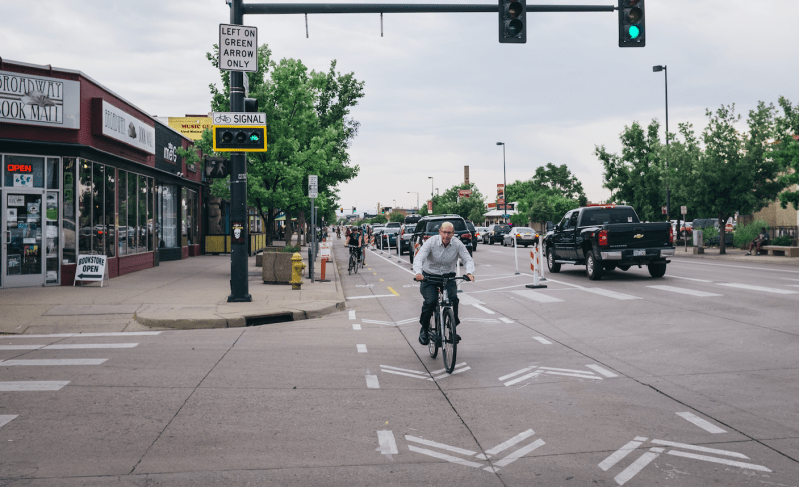 The two-way, parking-protected Broadway bike lane will stick around through the end of 2017, Denver Public Works announced yesterday, after releasing some preliminary data from the four-month-old demonstration project.
DPW says it wants to study the demo for another year before moving forward with a long-term redesign of the Broadway/Lincoln corridor. Right now the Broadway bike lane is just a half-mile long and doesn't connect to any other bike infrastructure. But the demonstration is a critical first step in creating a continuous and safe north-south route for people on bikes, which is badly needed along Denver's spine but simply doesn't exist right now.
The Denver Moves bicycle plan calls for a 4.5-mile protected bikeway all the way from I-25 to Brighton Boulevard. That's the ultimate goal, said City Councilman Jolon Clark, who has championed the demo project along with Bicycle Colorado and BikeDenver. The next segment installed may only reach Civic Center Station, however, because that's the north terminus of the study area.
"We're absolutely trying to see that through — at a minimum I-25 to Civic Center," Clark said. "I heard a lot of positive feedback on the bike lane but the number one complaint has been, 'Yeah, but where does the bike lane go?'"
DPW says it needs more time to analyze phase one data — we're still waiting to hear whether speeding and crashes decreased, for example — but the agency did release some early results [PDF]. They observed use of the bike lane on multiple days and surveyed about 250 people using Broadway in various ways. Here's what they found:
There was a 30 percent reduction in sidewalk biking and a 27 percent reduction in cyclists using the bus lane. No cyclists opted for riding in general travel lanes.
"I feel safer" was the top survey response from people walking and biking on the street.
62 percent of people who use Broadway want to see the bikeway extended to downtown, according to a survey of people who drive (39 percent), bike (19 percent), walk (18 percent), ride transit (3 percent), or use "all modes" (21 percent).
After DPW repurposed a driving lane, drivers used the three lanes at their disposal more efficiently, because there was still plenty of room.
Not surprisingly, the bike lane didn't start a recession for Broadway merchants, despite local news stations handing them a megaphone to decry the loss of some parking spots. (Clark actually helped merchants regain 11 on-street spots after engineers decided a left-hand turn lane was way too long.). Chia Basinger, co-owner of Sweet Action Ice Cream near 1st and Broadway, wants Public Works to "speed up the process" of implementing a full bike lane.
"I want to see it connect our commercial stretch to downtown," he said. "I think that's something we really miss out on when people visit Denver — our area isn't that far from downtown, but people take a car to get to and from here… I think not having a bike lane that stretches all the way there, we miss out on tourists dollars."
The point of the project was to demonstrate how Broadway could work safely for everyone, especially neighborhood residents — not just drivers fleeing the city each evening for I-25. And the results are positive enough for the city to keep studying it. But as Clark told Streetsblog, "It isn't the answer where it is. It's a pilot to make sure we can make it work the best it can possibly work. I want this ting to continue to connect."