What Denver Council Member Robin Kniech Learned From Relying on RTD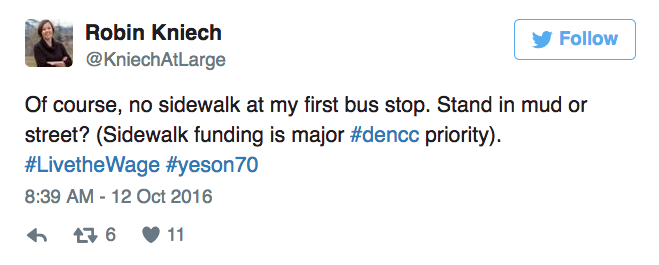 What if all public officials walked in the shoes of their constituents who depend on transit? How would influence their thinking on issues like improving bus service or building out better sidewalks?
In October, at-large Denver City Council Member Robin Kniech ditched her car and used RTD for a few days to support a statewide minimum wage hike that voters later passed. What she experienced were the everyday indignities, inconveniences, and outright hazards that Denver transit riders know all too well.
She had to choose between waiting for a bus in the mud, or in the street where drivers whizzed by. She had to go far out of her way because RTD didn't offer a direct east-west route. She had to navigate a fare system that should be much easier to figure out.
Kniech also happens to be on the task force for Denver's first-ever transit plan. I spoke to her recently about her experiences riding the bus. Here's what she had to say.
Where were you going?
I started my day from home in Park Hill and I took the bus to my first appointment, which was in the City Park area. Then I got back on the bus in City Park to go downtown. And I was in downtown for a chunk of the day, and walked to my meetings that were nearby. Then I took the bus to my son's bus stop in northwest Denver. Then him and I had to take the bus downtown — and this is a policy issue — because there is no bus I could take to get from northwest Denver to northeast Denver.
What would have made the trip better?
If there had been a bus that went straight east on 38th Avenue or something like that, or 44th, I could have taken one bus. But I had to go downtown, because we have this spoke-and-hub system, where everybody, for all trips, must want to go downtown, right? I mean, we do have a jobs center downtown, but there are many other types of trips people need and like to take.
Beginning commute to get kiddo & home. Transfer on Every. Single. Leg. Not a single direct route. 6 buses. #LivetheWage #yeson70 pic.twitter.com/ZS4bGtKoyG

— Robin Kniech (@KniechAtLarge) October 12, 2016
I'm sure there's a cost-benefit analysis [for not funneling all trips into downtown], and I certainly am curious about that. Because I think it adds a lot of time to commutes for people who don't actually need to be downtown. Traffic is heavy, so buses are slow when they're coming in and out of downtown, so if you don't need to be there, it slows your trip, in addition to having to transfer.
How did you pay for your trips?
It never occurred to me that there was some kind of day pass I could get that might be cheaper than paying per route. I definitely used transfers whenever I could. But there's nothing on the bus that really offers you the choice of getting one trip or a day pass. So you have to know in advance. I did the math, and if you're taking more than two trips, you probably want a day pass. There was no information for people who didn't have the internet about pass options. So it would be interesting to see if there could be kiosks on the bus that sold you different kind of passes. It's crazy, but you know, let's dream.
What were some aha moments for you?
I think my first one was my bus stop in my neighborhood. It was a bus stop I drive by all the time. It was damp that morning, and cold. I get constituent emails all the time about muddy bus stops with no sidewalks, and sure enough, there was one. And it's funny because I don't think of my neighborhood as a neighborhood missing sidewalks a lot. Do I stand in the mud or do I stand in the street? Those were my two choices. So that brought home something I'd been getting emails about.
I think the pass thing was an aha moment… that there is nowhere to learn about the different pass options that could potentially save you money if you didn't have internet access.
Home Hungry Tired. commute time=2.5 hrs. Actual min wage wrkrs prob use closest school after moving even if low scores #LivetheWage #yeson70

— Robin Kniech (@KniechAtLarge) October 13, 2016
I would say a another aha moment is just the time it took. I want to acknowledge I had an unusually long commute that day because of my life situation, but there are some benefits too. My son did his reading on the bus and I got to check some email. It was better than driving in that sense. I was able to close my eyes. It was a long commute and I was tired but I got to close my eyes safely!
Is it possible to know what it's like to rely on Denver's transit system without experiencing it firsthand?
I don't think anyone would be arrogant enough to think I could know someone else's life without walking in their shoes. But I think empathy is different than knowing, right? I mean, I can't know what it's like for a minimum wage worker even from doing it for three days. I can't know what it's like for a daily transit commuter who has no choice, ever. I just can't know that, but I can empathize with it. And I think I can empathize with it more deeply when I can experiment like this. I think it just deepens your awareness, and I think it's healthy for us as policymakers to have moments that deepen our awareness.
Now that you've had this experience, what are you going to push for?
I feel like I'm going to disappoint you because I've been advocating for these issues already so I don't really have a new list. I was already concerned about fares. And I think one of the things we're going to talk about is, one, we need to continue to push RTD to have their affordable fare conversation, but two, we need to think about routes where the city is buying down the cost of transit in the way that Boulder does. Those were things already on my horizon; they're still on my horizon.
#LivetheWage day 2. Cold and damp day for public transport. Almost $9 in fares for me & son. More than half my budget #stressed #yeson70

— Robin Kniech (@KniechAtLarge) October 12, 2016
I really would love more information about the cost-benefit analysis of non-spoke-and-hub routing — where there are routes that do not have to run through downtown. I think saving people time on transit allows them to earn a better living, allow them to spend more time with their families, be healthier, get exercise.
I'm a big champion for using some of our upcoming bond money for transit infrastructure. That Colfax high-frequency bus and the dedicated bus lane stuff was high on my priority list and will continue to be high on my priority list.
I think the bond is an opportunity to do some of that groundwork laying we talked about. I'd be shocked if that wasn't a theme of the bond, but whether we go beyond that to thinking about dedicated revenue of some sort, or some other transit-specific measure. Whether that's a sales tax, I think that conversation has to continue. Because whether it's the signal overrides or rolling stock, or buying service from RTD — whatever it is, all those things have a price tag. So I think revenue is fundamental to transportation. I thought that before this experience and I continue to think that.