What Denverites Want: Less Traffic, Better Transit, More Affordability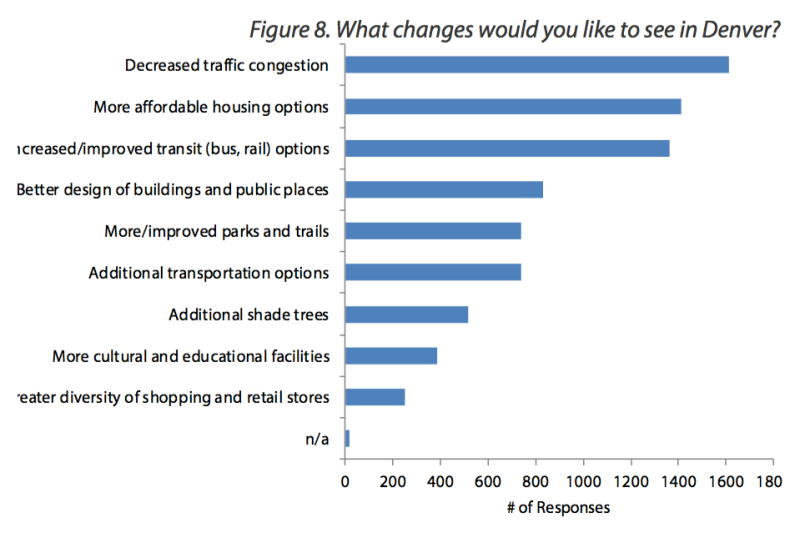 Denver residents want to live in a city with less traffic congestion, lower housing costs, and better transit options, according to a recently released survey [PDF] that will inform Denveright, the city's plan for transit, walking, land use, and parks.
As Denver grows, residents are concerned about affordability and "getting around," according to the survey. The population is getting bigger, so we have to make more efficient use of our streets. And that means we need to prioritize transit by adding more frequent service, building dedicated bus lanes, and equipping street signals with technology to give buses the right of way at intersections.
"The streets that we have, particularly in the city proper, are the streets that we have," said Transportation and Mobility Director Crissy Fanganello at a Denveright meeting today. "And they're not growing. So how do we move more and more people in the existing street system is the big challenge for us."
The city has a lot of work to do to make that happen. Travel behavior is actually moving in the wrong direction. More Denverites drive solo to work now — 73 percent — than they did in 2005, and that number is rising.
"A lot of people say, 'Well, that's because we're growing so much. We'll just blame it on growth,'" said Fanganello. She pointed to Seattle, a city with a similar population "that is growing pretty much at the same rate."
In contrast to Denver, Seattle has decreased its share of driving commuters by 9 percent over the last 10 years.
As for what people value about Denver, the survey found that parks and green space, restaurants and entertainment, and walkable neighborhoods — where they exist — topped the list. "Automobile access to daily destinations" ranked low.
The survey of 3,220 adults was collected online and at 29 public events. The respondents represent a "statistically significant sample size of the Denver population," according to the city, but the survey does have limitations. Respondents were more likely to be female and have higher household incomes, and people who identify as Latino or Hispanic comprise 10 percent of respondents but 31 percent of the city's population. While acknowledging these shortcomings, Denveright planners say "important insights and themes can still be gained from the survey results."