CDOT Will Knowingly Use Obsolete Projections to Rationalize I-70 Widening
Last month, Streetsblog wrote about the absurd traffic projections that the Colorado Department of Transportation is using to justify expanding I-70 from six lanes to 10 through northeast Denver. Last night, I-70 project director Tony DeVito admitted that CDOT will knowingly use old traffic modeling to make a case for the $1.2 billion project, even though there's newer data available.
DeVito spoke at last night's city council meeting, which ended just after midnight. Up for debate was an agreement that committed Denver's taxpayers to contributing $83 million toward the CDOT project in exchange for help with flood mitigation in the neighborhoods near the freeway.
City Councilor Robin Kniech, who sits on a Denver Regional Council of Governments committee tasked with long-term regional planning, grilled DeVito.
"So I just want to confirm that you are aware that the model [CDOT] is currently using is… a prior model," Kniech said. "That if we were to run the model today it would be run with totally different technology than was used for that model. So you're aware of that, and still feel like that's the model you're gonna rely on?"
DeVito responded: "From the team of the experts we have on the project, that is the correct projection to be using as we move forward. Correct."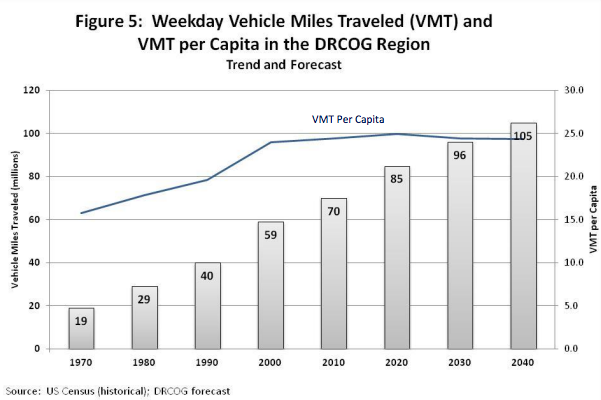 The freshest regional DRCOG traffic models, from 2014, project per capita driving mileage — or vehicle miles traveled (VMT) — to stay flat or even decrease by 2040. Those projections generally align with the trend over the last eight years, even as the region's population has grown.
But CDOT's "experts" have apparently decided to ignore DRCOG's most relevant modeling in favor of old data to make its case for widening I-70. CDOT forecast that traffic in the affected area will be 64 percent higher in 2035 than in 2012, according to the draft environmental impact statement. Those numbers are completely out of line with recent trends.
The final environmental impact statement, due out in January, is supposed to address the public's concerns over the draft statement (using bad data was one of many), but it doesn't look like CDOT will address the problems with its traffic projections.
"This is what the growth projects, this is what we see from the DRCOG model, and we cannot build something that's not sustainable," DeVito told the council.
Ah, so the expensive, unnecessary road widening that will induce more traffic is what CDOT considers "sustainable." That, in a nutshell, is what's wrong with our transportation planning process.