At Event Remembering 88 Victims of Traffic Violence, Mayor Admits to Inadequate Response
After listing the street safety measures the city installed last year, Mayor Hancock said, "That's not enough. And certainly not fast enough."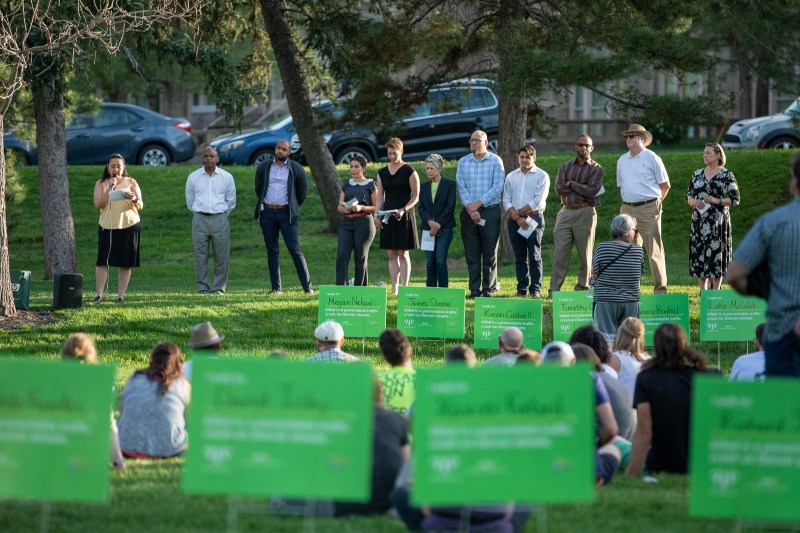 Dozens of cyclists and pedestrians walked and biked to a ceremony yesterday where they remembered the 88 people killed on Denver's streets since January 2018. There, Mayor Michael Hancock admitted that the city isn't doing enough to stop traffic fatalities and serious injuries.
"Every one of those lives lost is unacceptable and preventable," Hancock said before listing the street safety measures installed last year. They included nine pedestrian refuge islands, 19 miles of bike infrastructure, four traffic circles, six miles of sidewalks, and 12 new traffic signals.
"That's not enough," he added. "And certainly not fast enough."
Family members who lost loved ones, street safety advocates and survivors of traffic violence attended the event, first meeting at City Hall before departing for Sunken Gardens Park. There, they planted signs in a large circle, each dedicated to a victim, before city officials used subdued voices to read each name. 
Michelle Roche, who lost her 14-year-old son Cole when a reckless driver hit him on July 14, 2016, agrees with the mayor's admission that the city should do more. In an interview before the event, she critiqued the city's Vision Zero Action Plan, which is part of its commitment to end all traffic fatalities and serious injuries by 2030.
"Right now it just sounds like a propaganda campaign," she said. "If you ask me, that little trickle of dollars that they're putting towards the action plan … it's like in marketing, we would call that greenwashing."
But at the event, Roche wanted all the lives lost remembered.
"The main thing here is to focus on the victims, and those families whose lives have been permanently altered," she said. "Because it's so easy to gloss over traffic crashes as just statistics, or temporary disruptions in the daily commute — and forget about the human toll."
Eulois Cleckly, who heads the city's Vision Zero program through his role as head of Public Works, started the ceremony by slowly reading the names of several victims. Eight members of the city council followed, many reading the names of victims in their own districts. Father Joseph Dang, who has worked with multiple Vietnamese families after drivers killed their loved ones on Federal Blvd., offered a final blessing.
The Denver Streets Partnership, whose members advocate for safer streets, asked attendees to write postcards to city officials, each suggesting that they work to lower the city's default speed limit from 25 mph to 20 mph.
"We know that speed is the number one variable that could result in somebody dying," said Roche. "The difference between going 25 and 35 could be life and death for somebody."
Since the death of her son, Roche has become a street safety advocate, volunteering with organizations like WalkDenver and Bicycle Colorado. With the mayor's admission of an unsatisfactory response to street safety, she has a message for the him and other city officials.  
"Walk your talk. Do it," she said. "Put the dollars there and make them a priority."
---
Streetsblog Denver informs the movement for sustainable transportation and a livable city. Give $5 per month.
---