"Distraction Games:" These DU Students Can't Ride a Trike and Text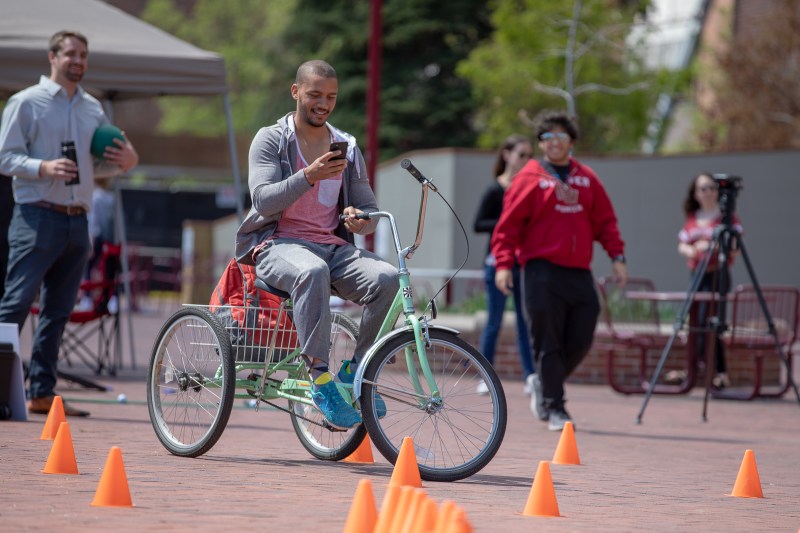 Ismael Mamdu, a student at the University of Denver, struggled to avoid hitting orange cones while riding a tricycle and sending a text message at the same time.
"You lose control," he said. "I didn't realize how much attention it takes."
He and other students attempted this and other feats of multitasking on the school's campus today when they participated in the "Distraction Games," an event state transportation officials organized in hopes of raising awareness of the dangers of distracted driving.
The light-hearted contest added distractions to games like putt putt, corn hole, and Perfection to demonstrate how much multitasking impairs people's ability to think. The games intended to send a message to college students and people in their 20s.
"They're more likely to be on their phones than anybody else," said Sam Cole, a spokesperson for the Colorado Department of Transportation. "They're also overrepresented in the fatality data."
In Colorado, distracted drivers caused 67 deaths in 2017, while the number of crashes averaged 40 per day.
"There's a false sense of security," said Cole. "A lot of people think, 'I've driven using my phone hundreds of times before, nothing's ever happened.' But it happens 15,000 times a year in Colorado."
And it's not just young people who use their phones while behind the wheel. Nearly everyone does it, according to a CDOT driver survey that Cole referenced. Around 90 percent of drivers admitted to some sort of distracted driving behavior in the last seven days. Over 50 percent also used their phone to make a call or read a text message while driving.
With so many people using their phones on the road, Skyler McKinley, a spokesperson for AAA Colorado, says games like corn hole offer a good way to think about distracted driving.
"If you're standing there looking at your phone and trying to throw beanbags, you're not going to throw beanbags very well," he said. "But then that same logic doesn't apply to driving. People somehow are conditioned to think, 'Oh I can absolutely do it.'"
Distracted driving costs all Colorado drivers through higher auto insurance costs, McKinley added, even those who don't use their phones.
"We're seeing rising insurance rates right now, and pretty consistently year-over-year in Colorado," he said. "A big part of that is that crash rates are going up, because people are impaired."
CDOT officials want drivers to enable the "Do Not Disturb While Driving" mode on their phones before operating vehicles.
"That removes the temptation," said Cole. "Because for a lot of people, it's almost like an addiction"
Many think that Colorado should ban distracted driving. This year, the Colorado Legislature considered a bill that would have made distracted driving illegal, but it was killed in the House Judiciary Committee.
Omar Youssef, a student, says that he doesn't text when behind the wheel. But now he's aware of how other distractions can affect his driving.
"I eat when I'm driving, or I'm messing around with the music" he said. "Now, I'll definitely try to get stuff done before driving."
---
Support Streetsblog Denver. Give $5 per month.
---