Pop-up Traffic Calming Demonstration on Federal Shows That Fast, Cheap Fixes Can Improve Safety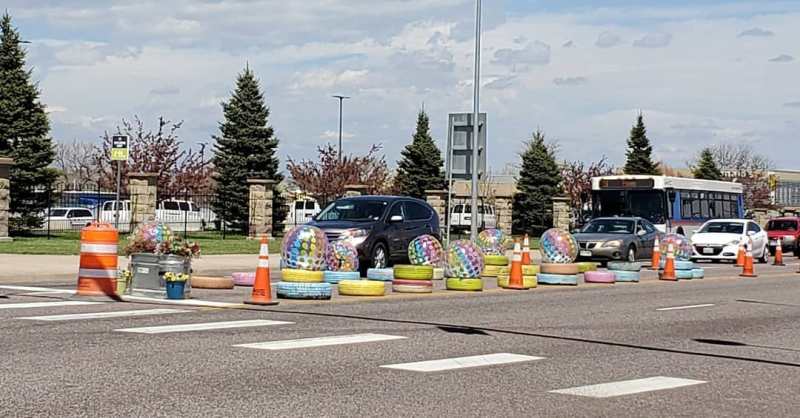 Advocates for street safety placed flowers, beach balls, pastel-painted tires and bales of hay on a stretch of Federal Boulevard on Saturday afternoon to show how easily Denver's deadliest street could be transformed into something safer.
The pop-up demonstration used playful materials to create temporary crosswalks, curb extensions and traffic islands — proven traffic-calming elements that save lives. The street improvements came after two years increasing traffic fatalities on Denver streets, where Federal is the city's most deadly.
"Federal Boulevard is so dangerous," said Jessica Vargas, a program coordinator with WalkDenver, the group that organized the display of "tactical urbanism" with the Regis University Community Council and AARP. "[It showed] how easy it is to make changes to the street that would make the neighborhood safer and more inviting for people to walk, bike, and take transit."
The city made a Vision Zero commitment to end all traffic fatalities by 2030. A report from the Denver Streets Partnership says that it would take $40 million per year to achieve the goal, but at the current funding level of $5 million per year it would take more than a century to achieve, it says.
Although some pedestrian safety improvements are planned along Federal this year, they do not include the fast and cheap actions that calm traffic as effectively as those put in place Saturday. Instead of flower pots and bales of hay, the city could install plastic posts and paint — a treatment that's already proven successful at the intersection of Colfax Ave., Park Ave. and Franklin St.
"What we're doing is not that much different than some of the stuff that Public Works has already installed," said Vargas about that intersection. "They just put up paint and bollards to slow cars down as they're turning, shortened the [crosswalk] crossing distance. This is the exact same thing."
The event followed a "leadership walk," in September where Denver Mayor Michael Hancock, Adams County Commissioner Steve O'Dorisio and other officials experienced the indignities of walking on Federal.
"It's important for us to be here," Hancock said at the time.
If that's true, then why does the $53 million the city budgeted for improvements to Federa this year not include a small amount for the highly effective paint-and-plastic post method? When Streetsblog aked Mayor Hancock about this approach a few weeks ago, he said that the answer may not be as simple as Saturday's demonstration:
"I'm not gonna say I'm the technical expert to tell you why we're not doing certain things. I can almost promise you that Public Works has looked at these things. They have to abide by certain standards. It's a more complicated explanation than just going out and throwing paint-and-plastic barriers up."
Despite this omission from the costly improvements planned on Federal, Saturday's demonstration was successful, showing that simple road treatments that taper roads can increase driver awareness, and slow them down.
"This really narrowed it," she said. "You saw people taking turns so much more carefully and slowly," said Vargas.
Transit riders also appreciated the change.
"They're like 'Wow this feels so much slower than usual, and much safer because people are actually paying attention and looking out for you,'" she said .
While people approached intersections more carefully, Vargas said it didn't impede the normal flow of traffic.
"We didn't really see any backups or anything," she said. "Even when you had emergency response vehicles trying to get through, they were able to go around pretty easily. People knew what to do."
Driver's didn't seem to mind, either.
"There were a few of them honking, but we couldn't tell if they liked it or if they were annoyed," she said. "Most of them just seemed curious."
WalkDenver's pop-up tactical urbanism events will continue through the summer.
June 1: Yale Avenue near Colorado Blvd.
June 15: In Montebello outside of the entrance to Silverman Park
June 22: In Northeast Park Hill at 35th and Holly