Guest Post: Pedestrian Observations from South American Cities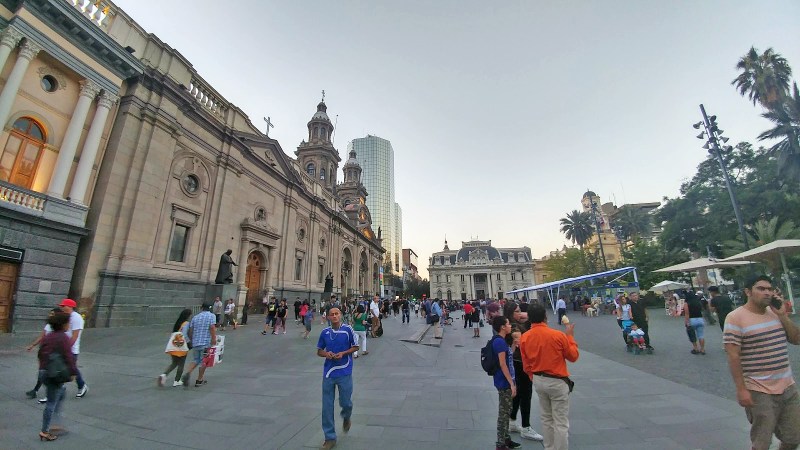 Mark Fetterhoff, is a board member of the nonprofit advocacy group WalkDenver. This guest post originally appeared at WalkDenver. 
Everyone has a different idea of what a vacation looks like. For some it's laying on the beach and others it's skiing in the mountains. While I enjoy both of those activities, one of my favorite things to do on vacation is explore cities. There is no better way to explore a city than on foot.  I recently returned to South America to visit three big cities. Over the course of 11 days I walked over 100 miles while in Buenos Aires, Montevideo and Santiago (plus a few other smaller towns in Uruguay). These amazing cities all have a lot to offer pedestrians and serve as examples of how big cities effectively move people. As someone who loves to walk, I had a few observations from these South American cities that Denver and other cities might learn from.
Make Walking Fun 
From animated pedestrian crossing signals to artsy underpasses, Santiago made walking fun. I was amazed at the amount of people not just walking but congregating at a colorful underpass reserved for pedestrians. The underpass led directly to a pedestrian mall where each block was a different art installation. More common in Santiago were the animated crossing signals where the animated person sped up before the light changed. It made me chuckle every time!
Make Public Transit Convenient
Bus rapid transit (BRT) in Buenos Aires is fast! Cities like BA have to figure out ways to move millions of people and for them, BRT is one of the solutions. In addition to being able to access different parts of the city any time of the day or night, riding public transit in BA was also a very affordable way to get around. I could not help but think that if RTD buses moved that quickly and efficiently, then many more people in Denver would ride the bus. Denverites should look forward to our first BRT on Colfax and pursue it for other high-traffic corridors since it is a lot cheaper and quicker to build than rail projects.
Make Streets for People
I walked down a quiet 2-lane street in the old section of Montevideo and was pleasantly surprised that a lane had been removed and replaced with planters, benches and tables for local cafes and restaurants. I plopped down and had a cerveza and a delicious lunch, because it felt good to eat in the middle of a street.
When you travel to other cities, what pedestrian-friendly things to do you notice that Denver might adopt to make it a more pedestrian-friendly city? For more photos from South America visit fettyfun.blogspot.com.
Mark Fetterhoff was introduced to walking and livability issues while working for aging and health nonprofits, including AARP, the National Association of Area Agencies on Aging (n4a) and the New York Academy of Medicine. You might find him walking to work, sporting events and local breweries.