Parking Madness Competition: Which Former Denver Parking Lots Improved the Most?
Enter Streetsblog USA's annual March Madness-style tournament by submitting former parking lots that became awesome urban environments.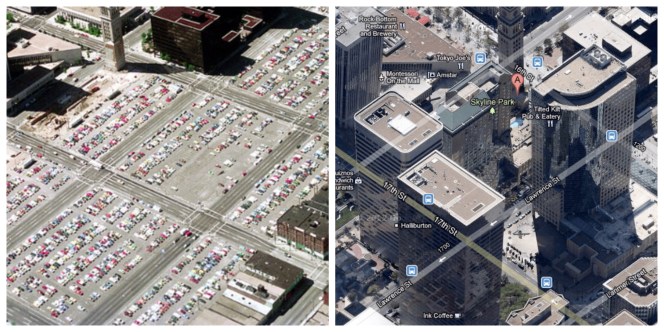 As basketball fans gear up for tournament season, Streetsblog USA is looking for parking lots around the country that went from blight to beautiful — including in the Denver area.
Our sixth-annual Parking Madness competition, we normally ask readers to help us compare some of the worst spaces in cities, surface parking lots, also known as parking craters.
But this year, the contest is taking an upbeat tone: We're looking for former car storage areas that transformed from dead, ugly places into "awesome city spaces," as Streetsblog USA writer Angie Schmitt put it.
"The above aerial [photo shows] downtown Denver in the 1970s vs. today is a great example of the kind of improvements cities can make with the right mix of attention, policy and investment," she wrote.
To enter, send photos and a short description to Angie Schmitt at Streetsblog Just click the link or email angie@Streetsblog.org by Monday March 18.