Traffic Fatalities: 'It's Definitely Been a Bad Year for Colfax'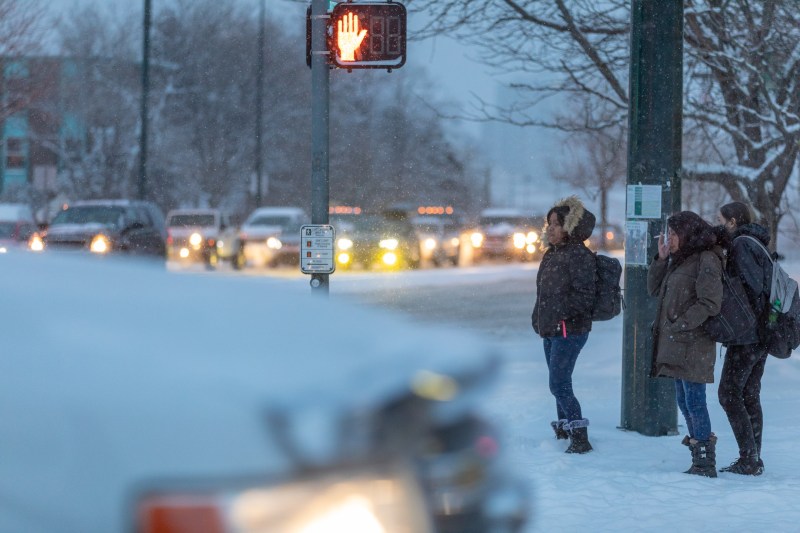 Drivers have killed four people on Colfax Ave. already this year. City officials could move fast to fix the deadly street — and the killing will continue until they do, say pedestrian advocates.
"It's definitely been a bad year for Colfax," says Jill Locantore, executive director of WalkDenver.
Healing the street's safety issues could be quick and inexpensive, she says. With some paint and some plastic posts, Denver could immediately improve safety at the street's most dangerous intersections.
If such traffic calming measures were in place, they may have helped 72-year-old Raymond Hansford, who died on Jan. 3 after a driver hit him on Colfax at Irving. The crash happened near the cloverleaf intersection where drivers from Federal Blvd. often travel at highway speeds as they merge onto Colfax, making the area especially dangerous.
"Cars are often flying when they get to Colfax and Irving," says Locantore. "There's nothing to slow them down or to give them a heads up, 'Hey you're about to enter this commercial Main Street area.'"
City officials know that Colfax is dangerous: It is a part of the "high-injury network," the small number of streets where 50 percent of the city's traffic fatalities happen. They also know how to transform an intersection quickly.
In 2017, Denver installed paint and plastic posts on Colfax where it meets Park Ave. and Franklin, which was one of the city's most dangerous intersections — and collisions declined there.
"The crash rate has definitely gone down at that particular intersection," says Locantore. "We'd love to see the city making those changes all up and down the entire corridor."
But Mayor Hancock, who committed in 2015 to end all traffic fatalities in Denver by 2030 as part of his Vision Zero pledge, has failed to repeat the quick and inexpensive safety measure at other dangerous intersections on Colfax and along other high-injury streets. And until he does, Denver can count on more deaths, says Locantore.
"Until we make major changes to those streets, we should expect there to continue to be fatalities."
---
2019 Traffic Fatalities on Colfax
Jan. 3: Raymond Hansford (pedestrian)
Jan. 19: Ethan Small (pedestrian)
Feb. 2: Nicholas Tucker and Hayley Sprow (motorcyclists)
---
Vision Zero challenges cities to eliminate all traffic fatalities through street design changes that help to control fast-moving traffic, better enforcement and more education.
Many cities are seeing results from even the simplest treatments. New York, for example, pioneered the use of plastic posts with paint to narrow roads at pedestrian crossings. Since implementing those and other traffic calming measures, fatalities on its streets fell to the lowest level since 1910, when horses outnumbered cars.
"Cities like New York City have demonstrated [that reducing fatalities is] totally possible if you just increase your budget for paint, which is a heck of a lot cheaper than concrete," says Locantore.
Despite Denver's Vision Zero goal, last year the number of people killed on the city's streets rose sharply to 58, up from 50 the year before. And with seven fatalities across Denver in the first six weeks of the year, the number of deaths would rise again this year, to 60, if the present rate of killing continues.
Colfax & Irving
A driver killed Raymond Hansford on a cold morning last month as he attempted to cross Colfax Avenue near Irving Street.
"There's no pedestrian crossing, but clearly he was trying to get to the bus stop or to the library," says Locantore who visited the site with city officials after his death. "It was a snowy day, and you could see the footprints in the snow."
When Streetsblog visited the site last week, there were footprints in new snow, suggesting that others crossed the seven-lane street at the same place.
Drivers may wonder why pedestrians would attempt crossing a street where speeds often approach 60 m.p.h. instead of using the nearest crosswalk. But there are good reasons:
A bus stop for RTD's 15 and 16 lines is across the street. But its mid-block location requires a long walk.
At the nearest crosswalk, pedestrians must push a "beg button" to trigger a walk signal. If they arrive at the intersection just after a green light, they have to wait for an entire light cycle for a walk signal.
The light cycles at that intersection are incredibly long for people on foot, especially in blustery weather.
Once someone crosses the intersection, they must backtrack to get to the mid-block bus stop.
This process could take five minutes or more.
In that amount of time, RTD riders could miss their bus. (Hansford would have waited 15 minutes for the next one.)
In the long-term, the city is planning to redesign the cloverleaf intersection, make sidewalk upgrades and install a Bus Rapid Transit line along Colfax, which will bring pedestrian safety improvements.
But what about the short term?
The police department has increased enfocrcement on Colfax, and other changes are being considered too, says Nancy Kuhn, a spokeswoman for the Department of Public Works.
"Denver Public Works is in the process of reviewing these crashes and will be doing site visits at all three locations to see if we can make safety improvements," she says.
Of course, her department could make such changes tomorrow. All it would take is one call from the mayor.
Note: The redesign of the cloverleaf intersection at Colfax and Federal will be discussed at 6 p.m. on Feb. 19 at the Alamo Drafthouse, 4255 W. Colfax Ave. between Stuart and Raleigh streets. The forum is hosted by the West Denver Business Improvement District and Walk Denver.
---
Streetsblog Denver informs the movement for sustainable transportation and a livable city. Give $5 per month.